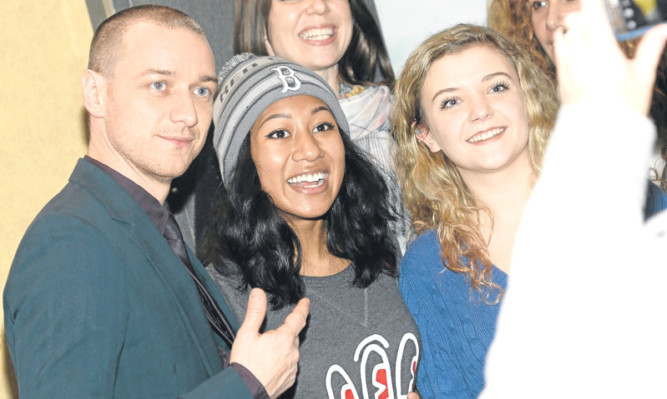 It's hard to find an actor without a political opinion these days and James McAvoy, the award-winning Scottish star, is up there with the likes of Benedict Cumberbatch.
That is all they have in common, though, reckons McAvoy, who has stepped on his soap box to bemoan the prevalence of public school boys at the top of the acting profession.
Cumberbatch and other contemporary luminaries, such as Eddie Redmayne and Dominic West, were the product of a posh public school, whereas McAvoy went to St Thomas Aquinas, a state comprehensive in Glasgow.
He said in an interview with a Sunday newspaper: "It's really important that art is accessible to everybody, not just the guys that go to Eton and Harrow," and who could disagree with him?
When the Edinburgh milkman Sean Connery decided to pursue his dreams of stardom, his background didn't hold him back and nor did modest roots deter Michael Caine, Terrence Stamp or Ray Winstone, not to mention Julie Walters and Glenda Jackson.
But if McAvoy is right social mobility is "getting harder and harder to tap into" what is to be done?
Social mobility
A new survey by the Social Mobility and Child Poverty Commission confirms the actor's fears that Britain does indeed bar the poorest people from a range of well-paid posts.
It has drawn up a league table of professions ranked according to how they address the problem and the results are quite surprising. Some of the most traditionally middle-class careers, such as the law and accounting, are doing the most to break down social divisions.
In fact, 87.5% of accountancy firms have been trying to tackle social mobility in their graduate recruitment, compared to just 41.7% of public sector organisations and a mere 12.5% in engineering.
The arts fare badly, according to a survey published by Goldsmiths University and organisation Create, with more than three-quarters of those in the creative industries coming from the middle classes.
In my own profession, once open to ambitious kids from all walks of life, there is certainly anecdotal evidence of a worrying drift towards the privileged. Partly, this can be explained by the relatively low pay.
Young journalists who want to work in London, for example, need a private income to be able to afford city rents on their paltry wages. Maybe law and accountancy employers, who tend to offer some of the more generous starting salaries, can provide a means of support to youngsters who lack affluent parents.
No-go area
To those working in the famously badly paid arts, London is almost a no-go area, yet it is where they must go if they are to make it. McAvoy can afford to live there now but there are many successful musicians who can't the pianist Benjamin Grosvenor, for instance, who, despite being at the beginning of a stellar career, said he might have to move to Berlin, like many musicians of his generation, because of the UK capital's house prices.
But getting to Grosvenor's position in the first place has nothing to do with the property market. McAvoy talks about the boundaries that stop people making something of their lives; it is education that best breaks down such obstacles.
The actor acknowledges this himself, crediting exceptional music teachers at his school, who gave him the drive to go to the Royal Scottish Academy of Music and Drama (now the Royal Conservatoire).
He was lucky because these days, music and drama departments in the state sector are a bit hit-and-miss, dependent on how the local authority decides to distribute its cash. As soon as budgets are squeezed, arts teachers are regarded as a luxury.
Arts vision
In England, at least, reforms have freed schools from the control of council coffers and imaginative head teachers can put music and drama back on the curriculum if they choose.
In Scotland, arts provision in schools is at the mercy of town hall bureaucrats who may not share McAvoy's vision in equating a child's confidence with a good grounding in the arts.
And worse, the gap in attainment between rich and poor pupils in Scotland continues to grow, so those who may have entered the creative field at university are unlikely to get that far.
What is surprising is that the actor then pledges his support for Scottish nationalism, which has been responsible in its eight years of government here for a greater decline in social mobility than any previous political regime.
An artist long decamped to London cannot be expected to know what goes on in his homeland but McAvoy's misty-eyed belief in independence won't bring about his dreams of a fairer society. Anyone living here since 2007 would be able to tell him that.