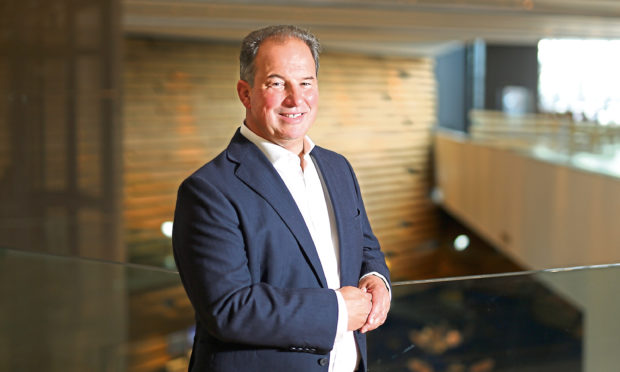 The UK's largest petrol forecourt operator Motor Fuel Group almost doubled its sales last year as it merged with its main rival.
Dundee businessman Tim Allan is a director of the Hertfordshire-based business, which operates around 900 petrol stations in the UK.
Last November the Competition and Markets Authority (CMA) cleared Motor Fuel Group's (MFG) £1.2 billion acquisition of its larger rival MRH.
Newly filed accounts for Motor Fuel Group's parent company CD&R Firefly Holdco Ltd show sales almost doubled last year from £1.75bn in 2017 to £3.38bn for the year ending December 31 2018.
Pre-tax profits increased from £23.98 million in 2017 to £27.84m last year.
Mr Allan, who serves as president of the Scottish Chambers of Commerce and was recently appointed chair of the board of V&A Dundee, said the company had seen phenomenal growth.
He said: "Last year was a great with our acquisition of MRH which was the UK's number one independent retailer by numbers of stations.
"We have spent the last 18 months integrating that business into Motor Fuel Group. It's been incredibly successful.
"We see the opportunity of putting two large businesses together and bringing some of our skill set and our approach to the larger portfolio and that's paying dividends."
As part of the CMA process, Motor Fuel Group agreed to sell sites at 38 locations.
However, since then the firm has set targets on more expansion as well as more investment in its retail offering and installing electric charging points.
"We had to dispose of some of our portfolio through the CMA process but we now want to grow and expand," Mr Allan said.
"The future of the MFG portfolio is continuing to improve our retail offer with a real concentration on convenience store quality and food to go with our partners Subway, Greggs and Costa.
"MFG are also investing in the rapid adoption of an electric vehicle strategy.
"We are one of the first movers in rolling out electric vehicle chargers across our large portfolio of stations.
"We have discovered the demand is there, customers expect it and we are investing in getting high quality chargers into the portfolio.
"The chargers can do a full charge in about 20 minutes. We welcome EV. If you can charge for it, you can make a business out of it."
---

---