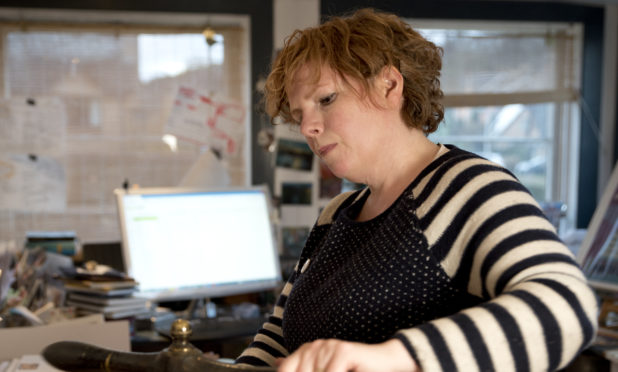 Anna Malyon of Coppertop Croft talks about her business journey
How and why did you start in business?
I love design and when I lived in Sweden I fell in love with many of the Scandinavian mid-century ceramics and textiles.
On my return to Scotland I studied printmaking and loved the bold graphic style of block printing in particular.
I want to design products that promote Scotland positively and provide retailers with something different and design-led to offer.
In 2018, my husband Scott and I worked on our first project, the North Coast 500 collection.
We now have more collections, a growing number of stockists and an online shop.
How did you get where you are today?
I still feel very much at the beginning of the journey but we have had a productive first year.
There has been a mix of highs and lows and some steep learning curves.
My experience in retail has helped in terms of sales and customer service and Scott's IT and business knowledge has helped with the book-keeping and website.
Who has helped you along the way?
I have had one-to-one support with business advisers from enterprise support organisation GrowBiz.
I have also attended networking meetings where I have met other rural business owners.
Just knowing you can reach out, ask questions and be guided gives you strength to work through the challenges. I also listen to podcasts covering social media, business strategies and creative enterprises while I am packaging or travelling so it is time well spent.
What was your biggest mistake?
I am learning that failures are the stepping stones to success.
We have invested money and time in projects that haven't worked out the way we expected but have learnt from that. There is an element of trial and error as we test out markets and designs and grow our customer base.
What is your greatest achievement to date?
Working for myself has allowed me to be more able to do the school run and have the kids at home rather than relying on childcare, but finding the balance and trying to be present for the kids is hard when you are juggling so many other competing demands.
So the achievement is when you hit the flow and balance – those days are sweet.
Hopes for the future?
I want to continue to build our wholesale and retail elements to the business and grow the design side as well.
Do you want to recruit in the future?
Absolutely. There are many tasks that I have to take care of that take me away from spending time on the design process.
What is the hardest thing about running your own business?
Sometimes it's hard not to take things personally if a design doesn't fly.
I also have to wear a lot of different hats so I am learning to stay on task for each job.
Any advice to wannabe entrepreneurs?
Get your ideas out on paper, do lots of research and gather information on the area you are looking to specialise in.