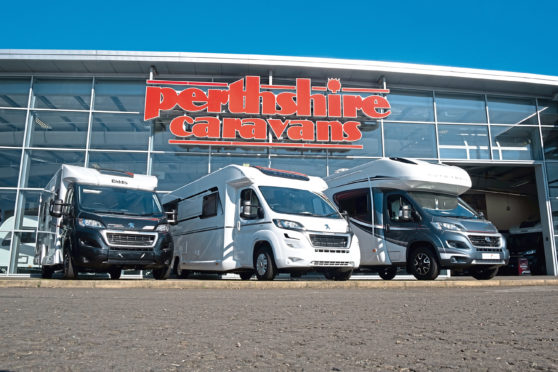 Perthshire Caravans said its business had stayed strong despite falling profits and tougher trading conditions in the sector.
The Errol-based firm, which has a prominent roadside retail premises on the A90, is run by the third generation of the McCormack family, siblings Ian Jnr and Claire.
Reviewing the firm's 83rd year since its formation in 1936, Ms McCormack said Perthshire Caravans had remained a "steady ship".
She said: "Our business has stayed strong in much tougher trading conditions than the industry had experienced throughout the same period the previous year," she said.
"A number of UK dealerships have fallen by the wayside in recent times however we continue to do very well and remain a steady ship, having weathered the storm with the help of the resources that we have available to us."
The Perthshire Caravans operation is split into a partnership structure and a limited company.
Perthshire Caravans Company is a partnership in which the touring caravan side of the business sits.
Meanwhile Perthshire Caravans Ltd covers sales of motorhomes and holiday homes as well as revenue from Red Lion Holiday Park in Arbroath and Loch Earn Leisure Park in Highland Perthshire.
Newly filed company accounts show that for the year ending March 31, Perthshire Caravans Limited's turnover remained steady at £17.9m while its pre-tax profits fell to 342,000 from £744,000 in 2018.
In the strategic report within the company's account, Mr McCormack said: "The company has had a successful year despite the slight decrease in profitability.
"The company is experiencing more challenging trading conditions and the increase in sales and the level of profit is viewed as an indicator of strong performance.
"Turnover has been achieved through the directors maintaining a tight control over the company's operations, working hard to achieve higher sales and improving website and advertising.
"The company has had sufficient finance to continue to trade as normal and does not rely on borrowings from either the bank or any other finance source."
He added: "Retention of profits within the company will help the company to respond to changes in the marketplace in which it operates and any rising costs."
The firm has made a multi-million pound investment in the expansion of its Loch Earn facility.
rmclaren@thecourier.co.uk