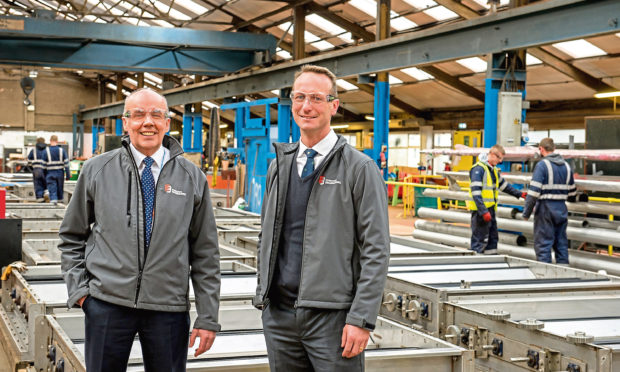 Perth-based Edwards Engineering said it has targeted reaching sales of £20 million a year as it revealed a 28% increase in revenues.
The 50-year-old firm operates from a 45,000 sq ft site with extensive fabrication facilities at Glenearn Road.
The firm, which underwent a management buy-out in 2016, has customers in the food and drink, manufacturing, agricultural and construction sectors.
Revenues rose to £9.6 million for the year ending December 31, up from £7.5m in 2018.
Edwards Engineering chief executive Ben Carter said: "Combining the multi-skilled capabilities of our in-house design and fabrication facility alongside the on-site installation of complex projects has directly contributed to the doubling of our sales figures in the last three years.
"We are planning continued investment in our technical and project management capabilities to underpin further growth as we work towards our target of £20m turnover."
Mr Carter said the firm had been taking on larger projects, with strong growth in the maltings industry and grain processing for major farmers, cooperatives and traders.
Among the recent projects was a £1m seed processing facility at Balgonie Estates near Glenrothes and a £4m project to install a new furnace building for Superglass Insulation in Stirling, doubled their annual production.
Edwards highlighted the investment it makes in staff with its in-house training and apprenticeship programme.
The Perth firm currently employs 62, with 40 engineering workers of which a fifth are apprentices.
The company expects to recruit a further five apprentices this year.
Managing director Sandy Kirk added: "We're very proud of our successful apprenticeship scheme which delivers both knowledge and employability.
"We ensure the apprentices' skill sets are honed in-house through working alongside our experienced engineers, project managers, draftsmen, site operatives and highly-skilled fabricators."
Edwards Engineering announced a formal partnership in October with DPS Group, a leading Scottish electrical, instrumentation and control business.
The joint venture follows Edwards Engineering's acquisition of the intellectual property, designs and copyrights of JE Cockayne Limited, the leading provider of cask filling and disgorging systems to the whisky industry.
The new joint venture company, Cockayne Systems, will be servicing existing customers and aims to provide innovative solutions to the wide range of customers' needs in the industry.
rmclaren@thecourier.co.uk