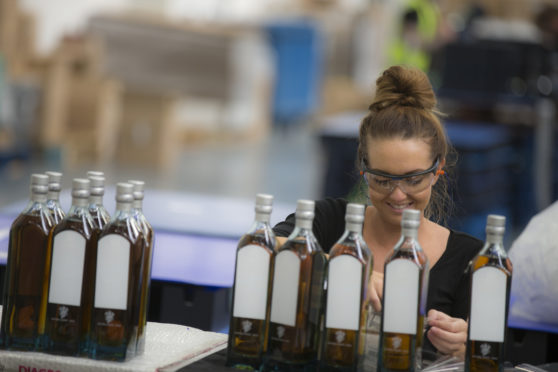 Fife is one of the most important locations for Diageo's business – and not just in Scotland, but anywhere in the world.
It is also a major employer in the area, and has been for a long time.
Just a few miles separate the drinks giant's Leven packaging plant at Banbeath, the largest packaging plant the company operates in the world, and Cameronbridge Distillery at Windygates – the company's biggest distillery.
Farther west, thousands of casks of whisky are maturing in the firm's warehouses at Cluny.
The area is one of the great engine rooms of Diageo, but also of the Scottish exporting industry producing the liquid and packaging for some of the most famous global brands – Johnnie Walker, Smirnoff, Tanqueray, Gordon's – that are shipped to more than 180 countries around the world.
These operations make Diageo one of the biggest local employers with 1,000-plus people working across the distilling, packaging and warehousing operations.
But Diageo's significance in Fife is not a modern phenomenon – the deepest roots of the company can be traced back to 1627 when the Haig family – the oldest dynasty in Scotch whisky – started distilling.
It was in 1824 that John Haig founded Cameronbridge distillery.
Today, Cameronbridge is at the cutting-edge of distilling, both in terms of production of grain whisky, vodka and gin, and also renewable energy.
The climate emergency has put environmental sustainability at the top of the agenda in Scotland over the past year, but it is something that Cameronbridge has been working on for well over a decade.
It was August 2008 when Diageo announced a £65 million plan to build an innovative new bio-energy and anaerobic digestion plant at Cameronbridge.
The bio-energy plant at the distillery takes the leftover grain, yeast and water from the distillation process and uses it to generate the renewable energy to power the distillery.
Diageo has invested more than £100m in expanding capacity at the distillery to meet production for future demand in Scotch, vodka and gin.
Meanwhile, along the road at Leven, the packaging plant was opened in 1973 and has grown to become the biggest packaging plant in Diageo's global business, producing around 36 million cases of premium spirits each year.
The majority of the production at the site is for export to markets around the world including leading global brands such as Johnnie Walker, Smirnoff and Gordons, as well as single malts including Lagavulin, Talisker and Oban.
The plant produces 100-plus different brands for different markets around the globe.
With these distillation, maturation and packaging operations all in close proximity, Fife is a major hub for Diageo's worldwide business.