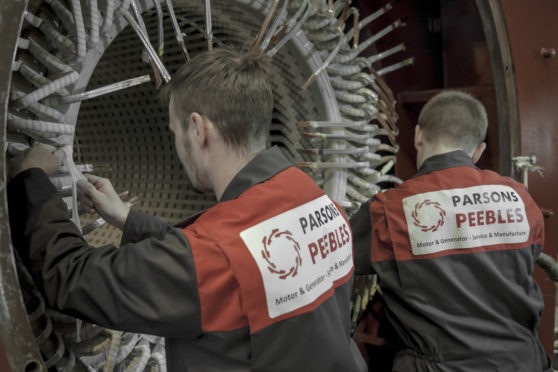 Financial woes at a Fife-based heavy engineering group continue to mount as losses trebled into tens of millions of pounds amid a "challenging" economic and trading environment.
Accounts for Rosyth-based Parsons Peebles Group, show the firm slumped to a pre-tax loss of £22.7 million for the year ending December 31 2018 against a pre-tax loss of £7.3m the previous year.
Revenue at the firm rose by 1.7% to £37.6m, however cost of sales rose by almost 30% across the period, from £27.1m to £35.1m.
In his strategic report in the accounts, chief financial officer Patrick Mennie pointed to improved financial results following a restructuring in the second half of 2018, with improvements in operational efficiency and a more disciplined tendering process.
He said the restructuring had achieved £1.5m in annualised overhead savings for the group.
"As a result of the restructure, the group's trading and profitability improved in the year to December 31 2019 and the outlook for the year to December 31 2020 is positive," he added.
Mr Mennie continued: "Restructuring costs, disruption during the changeover and a number of business unit closures drained cash, whilst reassessment of stock values, impairment and provisions for toxic contracts had hit the balance sheet."
Average staff numbers fell by 16 to 346 across the period.
Production staff came to 247 and 99 staff were employed in sales and administration roles
This brought a wages and associated costs bill of £15.5m.
The firm suffered a setback in January last year when a major fire broke out at its Cardiff facility.
The group has three main business units, including Parsons Peebles Generation, which provides a range of high and medium voltage motors and generators and a coils unit, with bases in Rotherham and Alabama, which delivers a rapid response re-engineering and manufacturing service of copper coils for traction motors, high-voltage motors and generators used in the heavy engineering and power generation sectors.
The third unit in the group is a service centre operation which has seven bases across the UK and provides a range of services, including sales, repairs and refurbishment of electric motors, pumps and gearboxes.
Parsons Peebles Generation saw revenue rise by 9.4% over 2018, but saw pre-tax losses grow to £2.4m.
Staff numbers at Parsons Peebles Generation fell by nine to 55, with 41 employed in production and 14 in sales and administration roles.
The ultimate parent company of the group is MDP Fund LP, previously known as Clyde Blowers Capital Fund.
jimillar@thecourier.co.uk