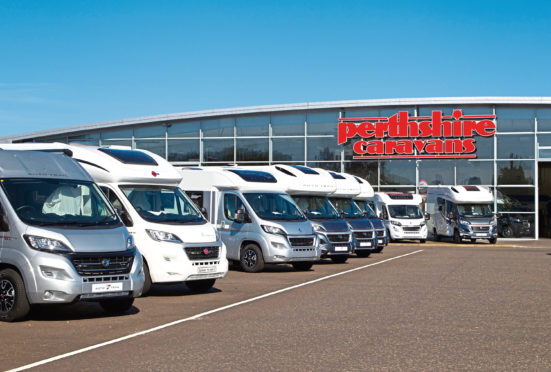 The largest motorhome, caravan and holiday-home dealer in Scotland believes that "staycations" will be even more attractive after the coronavirus global outbreak is over.
Perthshire Caravans, a long-established family venture employing nearly 100 people runs a major caravan and motorhome showroom in Errol as well as holiday parks Red Lion in Arbroath, Loch Earn Leisure Park near Crieff and Inchmartine Caravan Park near Inchture.
Claire McCormack, who runs the business with her brother Ian, said sales were good right up until they closed the premises last month due to the government lockdown – with customers still phoning up, keen to take delivery of their caravans and motorhomes.
She believes the business will be well placed once the coronavirus crisis is over.
She said: "The temporary closure of any business is not desirable and March is one of our busiest times of year with it being the start of the caravanning season.
"We hope the closure will not be for too long and are confident we can make up for lost time when we reopen.
"Staycations will be even more attractive, I feel, after we are all on the other side of the coronavirus l outbreak."
The enterprise was set up in 1936 by Peter and Chris McCormack, and ownership later passed to their sons, Ian and Peter McCormack.
Claire and her brother are Ian's children.
Claire said she has always been part of the business since she was very young, and became a director in 2015.
Her brother also worked in the business as he grew up, and he was appointed a director in 2011.
Ms McCormack added: "Because it's the family business, you yearn for success in a different way than if you work for someone else's company.
"We both feel like we are continuing the family legacy and all of the hard work that our father had carried out over the years."
In 1968 a site was acquired to operate Loch Earn Leisure Park and expansion followed with the acquisition in 1981 of Inchmartine Caravan Park for tourers.
While in 1988 the large seaside resort that is Red Lion Holiday Park was acquired.
Ms McCormack said the business continues to go from strength to strength.
She added:"Our future is looking bright, with more and more people looking to holiday in the UK, which should boost sales for touring caravans, motorhomes and static caravans on our holiday parks."