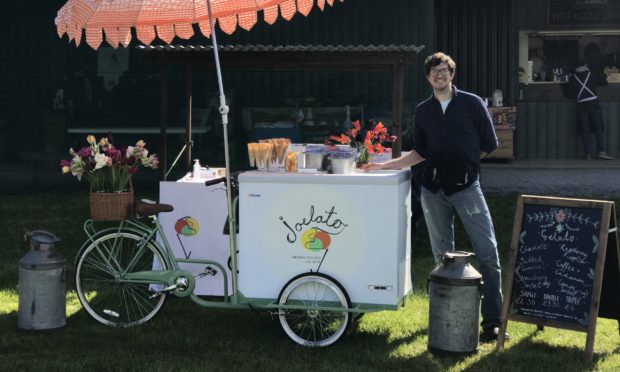 Joe Sykes honed his gelato making skills in Italy before founding his company, Joelato.
How and why did you start in business?
I've always wanted to run my own business but needed to decide what skills and products I could offer.
Being a massive foodie and with fond childhood memories of enjoying ice cream, an idea started to form a couple of years ago that maybe this was something I could go into.
How did you get to where you are today?
In early 2019, I studied at the Carpigiani Gelato University in Italy, which is the world's leading gelato school for gelato chefs, entrepreneurs and pastry chefs.
As well as learning the art of Italian gelato, I also learnt how to run a successful gelato business. Back in Scotland, we got to work and started building the business initially through local farmers markets and weddings.
Who has helped you along the way?
The support of both my wife Lucie and my family have been invaluable, plus the amazing network of foodies and suppliers who have shared their knowledge and advice.
In the early days of the business, I got in touch with GrowBiz to get help with crowdfunding and they've been super helpful and supportive, not only with practical business advice but also through their rural expertise and networks of contacts.
What was your biggest mistake?
My wife would say my Gooseberry and Lemon Verbena gelato – it tasted like soap.
But more seriously, not knowing enough about the machinery we needed.
We had some stressful and costly issues with machinery at the beginning but it's been a valuable learning experience.
What is your greatest achievement to date?
Creating the high quality, authentic gelato I envisioned which our customers clearly enjoy as they keep coming back for more.
How has coronavirus impacted your business?
The farmers markets aren't running at the moment and all our booked weddings have moved their dates to next year.
We were also working on plans for two trading pitches in Dunkeld and Edinburgh with our vintage trailer and trike, which we have obviously had to put on hold.
We came up with the idea for a gelato delivery service and it's been hugely popular.
We are now delivering directly to customers throughout the Perthshire area as well as into Fife and Dundee.
What do you hope to achieve in the future?
We would like to open the pitches we had planned in Dunkeld and Edinburgh plus we would like one or two gelato shops at some point.
Do you want to recruit in the future?
Absolutely. We will need staff as the business grows.
What is the hardest thing about running your own business?
Trying to keep on top of everything. There's a lot of juggling and very long working days.
Any advice to wannabe entrepreneurs?
Learn your craft, have a good business plan and get advice.