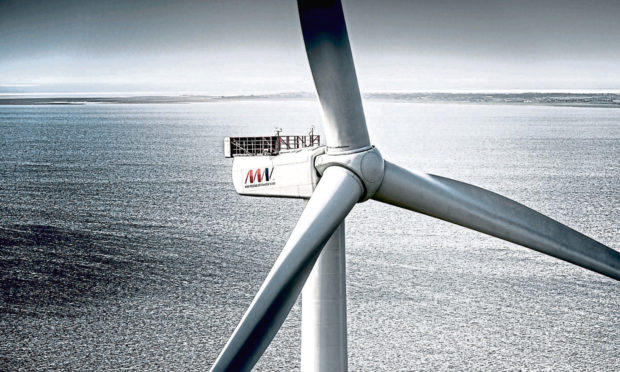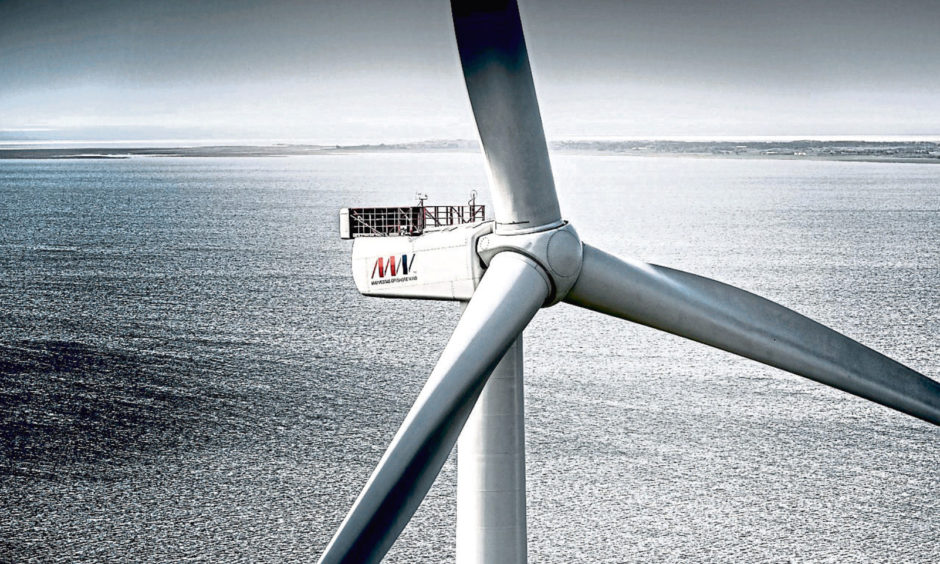 Scotland's largest offshore wind farm has taken a major step forward, reaching financial close with a new majority owner.
Global oil and gas firm Total has acquired a 51% in the Seagreen offshore wind farm development from SSE Renewables.
Perth-based SSE Renewables will continue to lead on the development and construction of the project, supported by Total, and will operate the asset on completion, which is expected in 2022/23.
The 1,075 megawatts Seagreen development, located 27 kilometres from the Angus coastline, has the potential to cover the energy needs of a million homes.
SSE Renewables also confirmed it has completed and signed a contract with MHI Vestas Offshore Wind to provide the 10MW turbines.
A 15-year service and maintenance agreement will see MHI Vestas run its operations out of Montrose Port, which has previously been announced as the home to the operations and maintenance base for the 25-year life of the wind farm.
In an exclusive column for The Courier, SSE Renewables managing director Jim Smith said the presence of MHI Vestas at Montrose was going to be a "massive catalyst for sustained economic growth in the region".
Total has acquired its stake in the project for an upfront payment of £70 million and earn-outs of up to £60m subject to performance conditions.
SSE's chief executive Alistair Phillip-Davies said: "We are delighted to be partnering with Total to deliver Scotland's largest offshore wind farm, Seagreen, which will make a significant contribution to the UK's green recovery from coronavirus by unlocking £3bn of low carbon investment and generating the low carbon power we need to reach net zero.
"Today's announcement is the result of great efforts by both teams to successfully complete this transaction in the current challenging circumstances.
"Total's extensive global experience in the offshore environment combined with their clear ambition to contribute to the development of renewable energy worldwide is a strong fit with SSE Renewables' strategic objective to treble our renewable output by 2030."
The total investment of the project is around $3.7 billion. Seagreen will start producing renewable electricity from end of 2022. Total has secured close to 70% of external financing for its 51% stake.
Chairman and chief executive of Total Patrick Pouyanné added: "This move represents a major change of scale for Total's offshore wind activity in line with our strategy of profitable growth in renewables and low carbon electricity.
"As one of the main actors in the UK energy sector, Total will leverage its extensive expertise in offshore operations and maintenance to contribute to the success of the project alongside country's leading offshore wind developer, SSE Renewables".
The transaction remains subject to conditions, including public authorities approval and should be finalised by July this year.
Last week a deal was struck to allow part of Carnoustie's world-famous golf links to be used for cabling to an onshore substation in Tealing.
Seagreen will provide hundreds of local jobs created during the construction phase and throughout its operational life.
Additionally, Seaway 7 will create up to 50 jobs at its Aberdeen office as a result of being awarded the contract to install the turbine foundations and inter-array cables for Seagreen. Aberdeen-based Petrofac will build the onshore and offshore substations.
Jim Smith, managing director of SSE Renewables, said: "Following the agreement with Total we are looking forward to delivering the Seagreen offshore wind farm which will contribute towards building a cleaner, more resilient economy as we pursue a green recovery from coronavirus by unlocking £3bn of low carbon investment, creating green jobs and generating the zero-carbon power we need to reach net zero."