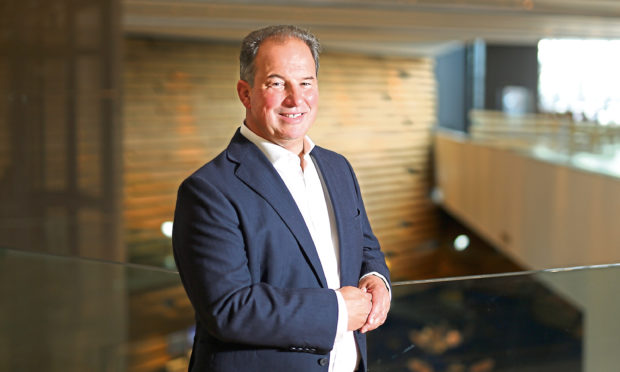 The Scottish Chambers of Commerce has called for an immediate cut in the rate of VAT for hospitality and tourism businesses as confidence levels among Scottish firms has fallen to record lows.
The Chambers' quarterly business survey showed 95% of tourism businesses had a negative outlook.
The survey, conducted in partnership with the Fraser of Allander Institute, found most sectors anticipated requiring fewer staff.
In every sector, with the exception of manufacturing, the proportion of firms applying for credit is at the highest level since the question was introduced in 2014.
Many businesses will have had to rely on cash reserves and government support schemes to meet fixed costs.
Dundee entrepreneur Tim Allan, who is president of the Scottish Chambers of Commerce, said the results showed the need for government to continue business support measures beyond the end of lockdown.
"A sudden end to these vital financial support measures would not be welcome by anyone and a tsunami of jobs would disappear overnight," he warned.
"Governments must accelerate investment plans to fuel economic demand and activity as well as providing support for sectors to adapt to the new economy.
"This must go hand in hand with job guarantee and training schemes that ensure that we do not see a lost generation of talent."
Tourism and hospitality have been most impacted by Covid-19, the survey found.
Meanwhile around half of manufacturing firms reported a fall in orders while being impacted by high cost pressures from raw material prices and other overhead costs.
More than half of construction firms surveyed said they expected their investment to fall in the next quarter.
The retail and wholesale sector reported profit levels had plummeted and investment levels have collapsed with fewer than 10% of firms expected to increase investment next quarter.
Mr Allan said the VAT cut was required for hospitality and tourism services including accommodation, food, beverages and visitor attractions to boost activity and consumer confidence.
He also called on the Scottish Government to consider reducing the two metre social distancing guidance.
Professor Graeme Roy, director at the University of Strathclyde's Fraser of Allander Institute, said the latest survey painted a "sombre picture" of the scale of the challenge now facing the Scottish economy.
He said: "Across the board, confidence has plummeted, with a sharp fall in sales, turnover and investment across the business base.
"What is particularly worrying is the employment outlook. The survey shows a clear warning of what is to come, with a sharp rise in unemployment now inevitable as businesses adjust to a new normal."
rmclaren@thecourier.co.uk