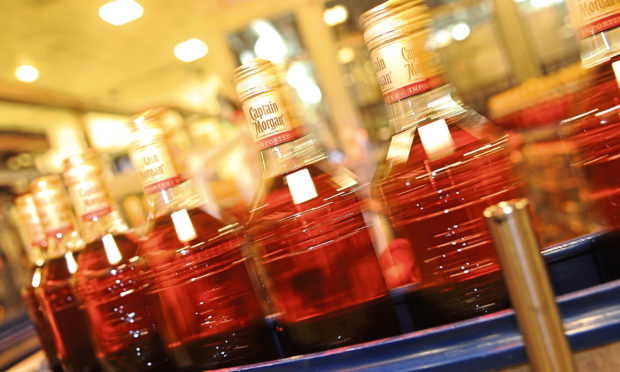 Profits at global drinks giant Diageo have fallen by 47% as the Covid-19 pandemic saw the shutters pulled down on bars and restaurants.
The firm is a major employer in Fife, where it has a packaging plant at Banbeath, the Cameronbridge Distillery at Windygates and warehouses at Cluny.
Operating profits plunged 47.1% to £2.1 billion as sales fell nearly 9% to £11.8bn for the year ending June 30 2020.
The company also had a one-off impairment charge of £1.3bn as the value of its operations in India, Nigeria, Ethiopia and on the Windsor brand in Korea fell as the pandemic hit those markets.
Diageo chief executive Ivan Menezes described fiscal 2020 as a "year of two halves".
He said: "After good, consistent performance in the first half of fiscal 20, the outbreak of Covid-19 presented significant challenges for our business, impacting the full-year performance.
"Through these challenging times we have acted quickly to protect our people and our business, and to support our customers, partners and communities."
Mr Menezes highlighted the work undertaken at the firm over the last six years which had made the firm "a more agile, efficient and effective business" giving it a "solid foundation" to respond to the impacts of the pandemic.
He also pointed to decisive action taken through the second half of the year, tightly managing costs and reducing discretionary expenditure.
Despite the fall in profits, the firm will still pay the same final dividend as the previous year of 42.47p per share, delivering a full-year dividend of 69.88p per share – an increase of 2% against the previous year.
In the United States, a key market for Diageo, Johnnie Walker net sales declined 11% and the brand lost share in the Scotch category, although malts continued to perform well with growth from Oban and Lagavulin, as well as Talisker and Mortlach.
British net sales declined by 4%, where solid first half results were offset by the impact of on-trade closures from March despite an increase in off-trade sales and continued growth in rum and liqueurs were offset by declines in beer, scotch, wine and vodka.
In Ireland, a soft first half performance saw net sales decline by 20%.
Sales of the iconic drink Guinness fell, impacted by a keg return scheme to support customers and maintain product quality, as well as the closure of on-trade venues.
Mr Menezes added: "While the trajectory of the recovery is uncertain, with volatility expected to continue into fiscal 21, I am confident in our strategy, the resilience of our business and am very proud of the way our people have responded. We are well-positioned to emerge stronger."
jimillar@thecourier.co.uk