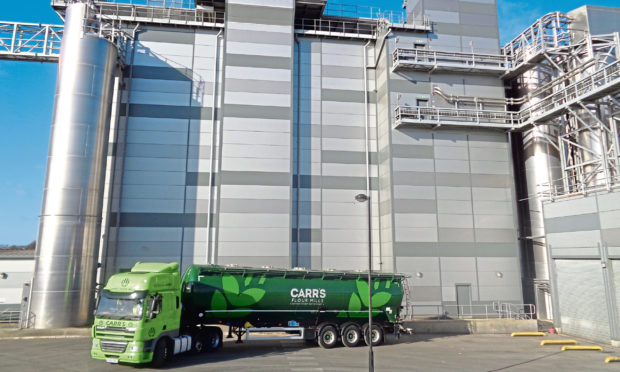 Fife-based Carr's Flour Mills ramped up production beyond existing capacity to cope with the "extraordinary spike in demand" triggered by the Covid-19 pandemic.
Managing director Rob Munro said the Kirkcaldy facility, which serves Scottish bakeries, had seen production increase by a quarter.
Another mill in the group, which produces 1.5kg bags of flour increased production from 135,000 to almost 400,000 bags per week.
The firm had also begun monitoring online platforms and working with the authorities to stop price gouging by individuals at the height of lockdown which saw supermarket shelves empty of flour.
Mr Munro said: "Prior to the pandemic, we believed we were working at capacity, but in consultation with staff and unions, we were able to introduce changes at Kirkcaldy which delivered a 25% increase in just seven days."
He said the pandemic was a "black swan event" that tested the company's capabilities, but the firm had met the challenges in an "extraordinary journey which underlined the strategic importance of the Kirkcaldy mill" to the food chain in Scotland.
He outlined the impact of the pandemic as the firm filed annual returns which show a 3.7% increase in turnover from £91.6 million in 2019, to £94.9m for the year ending March 31, 2020.
Pre-tax profits also rose from £2.1m, to £2.2m across the period, an increase of 4.7%.
The company has a headcount of around 168, with 60 employed at the Fife base.
Mr Munro paid tribute to the "dedicated and very skilled staff who had dug deep and worked flat out, keeping production running 24 hours a day, seven days per week".
Some staff had chosen to defer retiral plans to help out.
The firm is now considering further investment proposals for the Fife facility which could see increased holding capacity for flour and wheat .
Whitworth Holdings – the UK's largest flour miller – acquired Carr's in September 2016 in a £36m deal.
Carr's also have mills in Cumbria and Essex.
jimillar@thecourier.co.uk