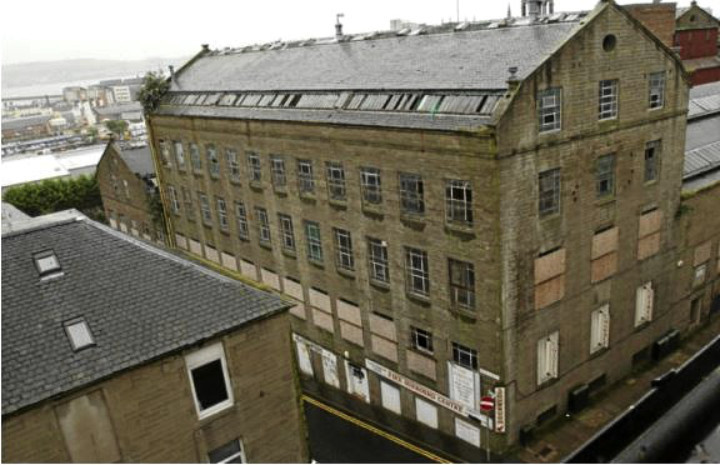 A troubled Dundee waterfront hotel development could be back on track.
The Lindores Lower Dens site has been sold to Percor Capital for an undisclosed sum, and the new owners are working up plans for its phased refurbishment.
The project was stalled after development company Lindores (Lower Dens) ran into debt funding problems which also affected two other firms in the Lindores Group.
Director Tim Allan, former president of Dundee and Angus Chamber of Commerce, put the three firms into administration with liabilities of almost £15.5 million.
Paul Dounis and William Duncan of RSM Restructuring Advisory LLP, as joint administrators over the Lindores Property Group, including Lindores Ltd, Lindores (Lower Dens) Ltd and Lindores (Hawkhill) Ltd, yesterday announced the sale of the former jute works.
The site includes the listed North and Bell Mill on Constable Street and the former Marquee nightclub and Smugglers Inn bar.
The properties have planning permission for a proposed 130-bed hotel and the potential for a complementary aparthotel in the second phase of development.
Paul Dounis said: "The sale of Lindores Lower Dens and the future regeneration of the site will be a real boost for the local area – generating new jobs and stimulating growth.
"We continue to work with our professional advisors to secure viable options for the remaining portfolio, including considering proposals for outline planning consent to ensure future development of each site."
Percor Capital director Jean-Pierre Permutt said: "We are pleased to have completed the purchase of the former Lower Dens Mill site and will be working up plans for the phased refurbishment."
The RSM team are continuing to consider options to maximise opportunities for Lindores properties at Dundee One, River Court, the  50,000 sq ft Grade A quayside office space and the adjacent development site with a lapsed planning consent for 130 residential apartments,
They are also considering options for the buildings on the east side of Dens Street on the Lower Dens site and the Lindores Hawkhill Industrial site that includes a potential residential opportunity close to Dundee University.
The three Lindores firms had been funded by Allied Irish Bank (AIB), which was taken under Irish state control after the financial crash, with the debt portfolio later sold.