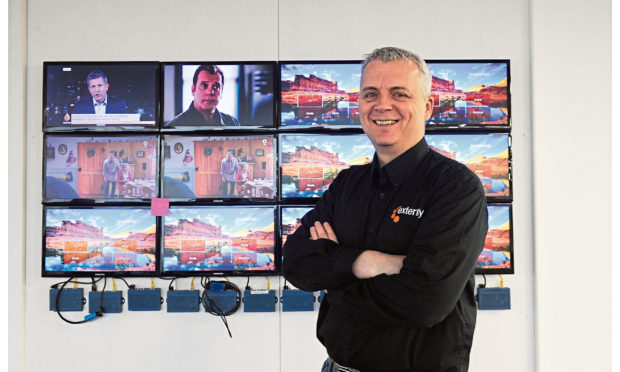 A number of Tayside and Fife firms have been named among the fastest-growing and most dynamic small and medium-sized enterprises (SMEs) in the UK.
The latest London Stock Exchange (LSE) Group 1,000 Companies to Inspire Britain report features 58 Scottish businesses in total.
More than a quarter of the firms in the report are based in Scotland and North England.
SMEs in the latest edition have recorded 41.2% annual average revenue growth and collectively generated more than 42,000 jobs over the past two years.
Among the Scottish contingent are Dunfermline-based Campion Homes, audio visual tech firm Exterity in Dalgety Bay, Perth headquartered plant hire firm, Morris Leslie and industrial supplies firm, Scott Group based in Dunfermline.
Perth- based industrial and commercial building construction firm, Algo and excavator undercarriage and wear parts firm, Astrak in Kirkcaldy also made the list.
LSE Group chief executive David Schwimmer said: "This report highlights the vital role of SMEs in driving economic growth, leading innovation and providing jobs across the UK.
"In this challenging year for businesses, it is more important than ever to shine a light on these stories of resilience and entrepreneurship.
"The success of UK SMEs is crucial as we rebuild a post Covid-19 economy, and London Stock Exchange Group is committed to helping growth companies achieve their potential."
Economic Secretary to the Treasury, John Glen MP said SMEs were "the engine room of our economy".
He said: "They have risen to the immense challenges of this year with resilience and ingenuity, and we are proud to support them with one of the most generous and comprehensive packages for businesses anywhere in the world.
"It is more important than ever that we champion the companies in this year's 1000 Companies to Inspire Britain report and many others like them – they are creating jobs, spurring on our economic recovery and building the industries of the future."
London and south-east England continue to contribute the greatest number of companies for the annual report, followed by east England, north-west England, and Yorkshire and the Humber.
Scotland, East Midlands, and Yorkshire and the Humber recorded the biggest increase in the number of companies from last year.
The top five industries represented by this year's SMEs – engineering & construction, manufacturing, food & beverages, retail and technology – account for more than 40% of the total.
Professional services is the leading sector for jobs created at more than 7,000, followed by employment services and food & beverages.
The leading regions for job creation include London, north-west England, south-east England, Yorkshire and the Humber, and the West Midlands.
Angelene Woodland, chief marketing officer at report lead sponsor British Business Bank, said: "Smaller businesses have shown great strength and resilience during the Covid-19 pandemic, and it is encouraging to see that 150 businesses featured in this year's list have been supported by one of our British Business Bank programmes.