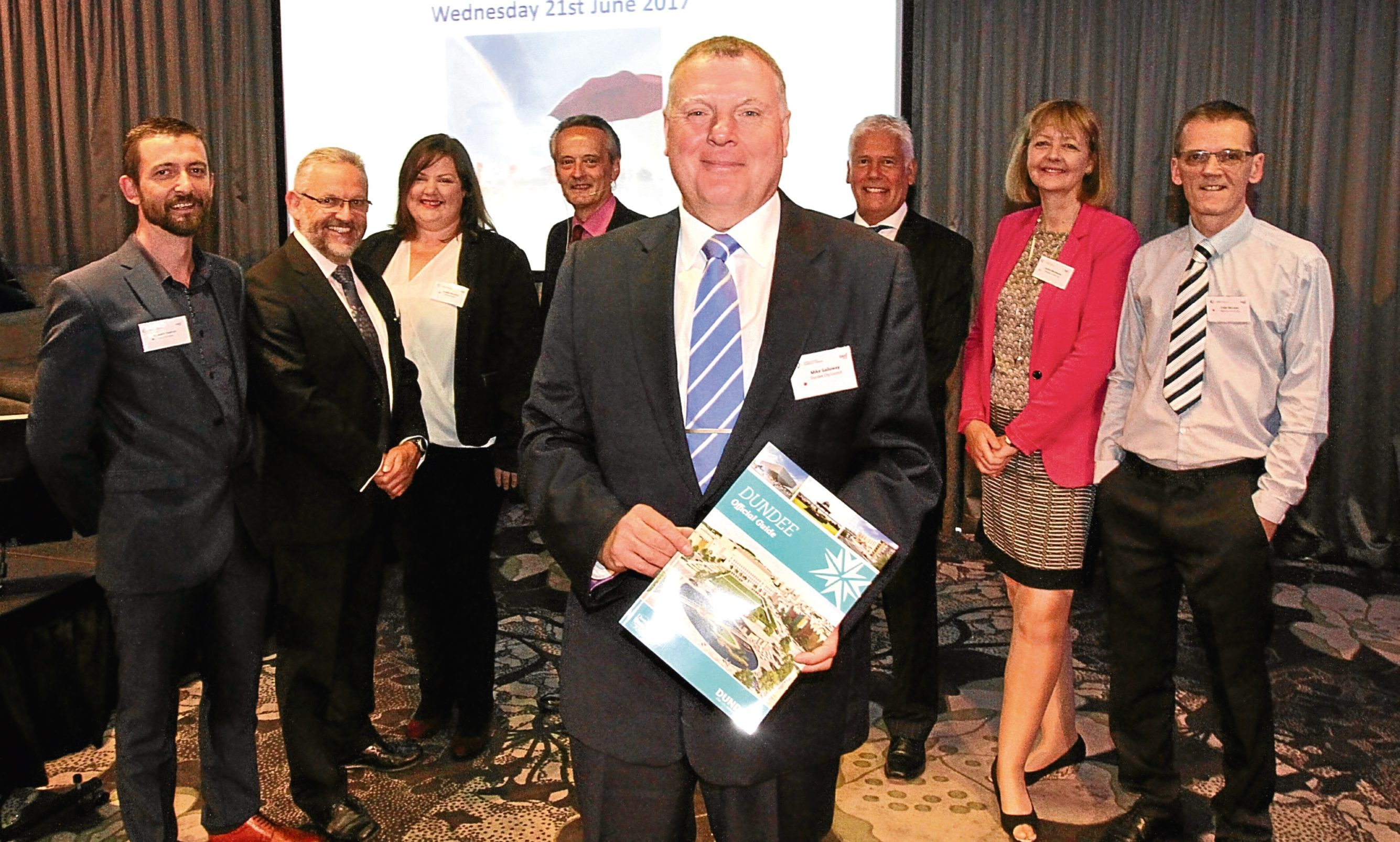 The leader of Dundee City Council made an impassioned call to arms as he urged local business leaders to work together to create new opportunities.
Councillor John Alexander was addressing the sixth Dundee Economic Summit less than 24 hours after Lloyds Banking Group delivered a jobs shock to the city by announcing the closure of a major contact centre.
Councillor Alexander's wife, Sarah, is among the 252 workers at risk of redundancy and he admitted to the personal pain his family had felt as a result of the bank's decision.
However, he said Dundee had overcome major job losses in the past and urged business leaders to use such moments of adversity as a motivational spur.
"People often talk about open doors and pushing on open doors," he said.
"We need to be kicking in doors. We need to be much more up front and we need to be pushing the case much harder than we ever have."
The summit's central theme was on opportunities and the need to build on the foundations being built at the waterfront.
In his waterfront update, Mike Galloway, executive director of city development at Dundee City Council, revealed a newly signed-off design for a space immediately adjoining the V&A Dundee design museum.
First view of what site neighbouring @VADundee will look like once construction buildings go. Design just signed off #dundeeeconomicsummit pic.twitter.com/m5SGxXO2vV

— Graham Huband (@C_GHuband) June 21, 2017
He spoke of development opportunities, including the vision to build an upscale hotel, 88 apartments and a significant amount of new office space on the corner site directly to the north of the V&A building.
"The waterfront in Dundee is a national project. It is not just simply important for the city and Tay cities area — it is important for Scotland and the wider UK," Mr Galloway said.
Mr Galloway said fostering external connections was key to long-term prosperity and said the city was keen to see new flights established from Dundee.
The airport suffered a blow late last year when Flybe cancelled a popular scheduled flight to Amsterdam.
"The London flight has been secured for the coming years and we will continue to work with Flybe and Loganair to improve that service," he said.
"The loss of the Amsterdam flight was a great regret but we haven't given up on that and we are going to pursue opportunities to reconnect."
The summit also heard from Stewart Murdoch, director of Leisure and Culture Dundee on developments in the European City of Culture bid for 2023.
If successful, he estimated Dundee would benefit from a £120m economic uplift in 2023 and an immediate 50% uplift in visitor numbers.
Dundeecom chief executive Callum Falconer gave an update on efforts to bring decommissioning work to the city.
He told delegates that dockside infrastructure works would be completed at the Port later this year in time for the arrival of Europe's biggest permanently positioned heavy lift crane.
Click here for more from the summit.