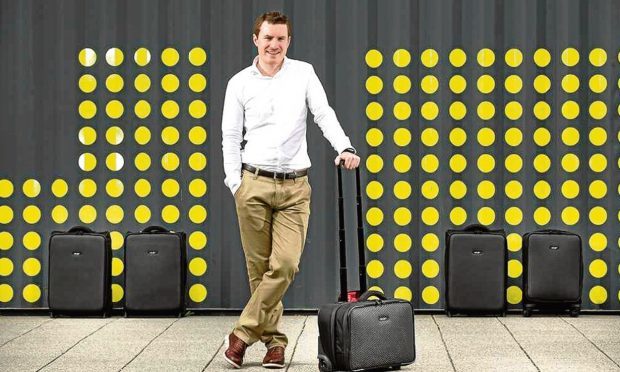 Dundee luggage company LAT_56 has raced into the fast lane by signing a valuable deal to supply the McLaren Formula 1 team for the next four years.
The company will not only supply the race team with its high performance range of bags but will also launch a new range in conjunction with the F1 giant.
The deal comes four years after McLaren's head of design and engineering Neil Oatley purchased a bag from LAT_56, which is based at District 10 at Greenmarket.
Business founder Kevin Fox explained: "Neil is a bit of a legend in F1 and when he purchased one of our bags, I dropped him a line.
"We had a chat about doing a deal at that point, but we were too young at that point, the timing wasn't right.
"Then, before Christmas at the end of last year, the commercial and finance director at McLaren made contact again and we've been working on the collection for the past 10 months."
A product designer, Mr Fox launched his company with a suit carrier which was sold in Selfridges in 2010.
He then expanded his business into a premium luggage range, which includes a bomb proof iPad case.
He relocated the business from Glasgow to Dundee four years ago.
Mr Fox described the partnership with McLaren as the biggest milestone in his company so far, which he hoped would play a key part in his plans to increase sales across the globe.
He continued: "Supplying McLaren with all their race team with bags is in itself a valuable contract.
"They travel nine months of the year country to country. They really need bags to perform well on these trips and we are providing them with everything from backpacks to duffel bags to suitcases.
"We've collaborated on a luggage collection, which will be dual branded.
"It's been a pleasure working with them on engineering products that will meet the exacting standards expected in the world of grand prix racing.
"This is massive for a business as it will expose us to a global audience. They have seven million followers on social media.
"It's a really proud moment because you don't get a higher standard of design and engineering than McLaren. For them to select us is a massive achievement.
"This long-term partnership will open up the opportunity for us to collaborate on future product developments with one of the most innovative engineering and design teams in the world, and at the same time give us access to a truly global marketing channel."
The McLaren LAT_56 collection includes suitcases, duffels, wheeled carry-ons, check-in bags, laptop bags, garment bags, briefcases, backpacks and wash bags.
It will launch officially in late November when the products will be available for pre-order ahead of the new Formula 1 season.
McLaren Racing Director Eric Boullier said: "We're delighted to welcome another premium partner to McLaren's portfolio.
He said:"Not only are LAT_56 products beautifully designed, they are also engineered to withstand the relentless and demanding nature of grand prix travel, which requires the perfect balance of practicality and form."
rmclaren@thecourier.co.uk