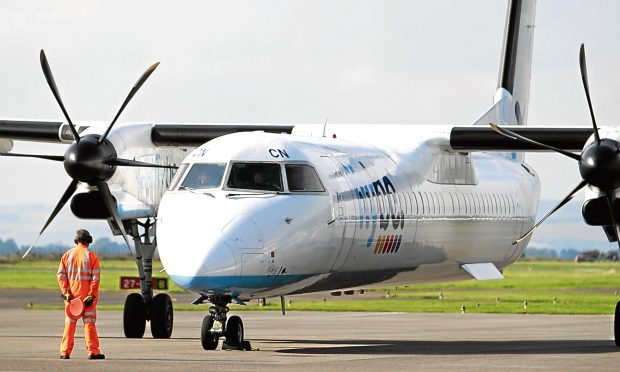 Regional airline group Flybe saw profits nosedive in the first half of the year as the weak pound and one-off costs related to a major IT contract took their toll on the business.
Shares in the group – which withdrew from Dundee Airport in late August after a long-term flying agreement with Loganair came to an end – moved lower in early trading yesterday despite the company posting a healthy 9.3% increase in revenues to £418.5 million in the six months to September 30.
Statutory pre-tax profits for the period came in at £15.1m, but the figure was inflated by a £6.7m non-cash gain from the revaluation of USD aircraft loans.
On an adjusted basis, pre-tax profits came in at £8.4m – down from the £15.9m reported a year earlier – while the group's cost base grew by 11.7% to £410.1m.
The group said the 47.2% decline in adjusted pre-tax profit was largely due to "one-off onerous" costs relating to a major IT contract designed to improve the group's digital platforms and the impact of increased aircraft maintenance costs.
In October, the company share prince plunged by more than a fifth in a single trading session after it advised the market of both issues.
Group chief executive Christine Ourmier-Widener insisted that progress was being made.
Key metrics within the Flybe UK operation show an 11.6% rise to £406.8m in total revenue, while there was an 8.8% increase to 5.2m in passenger volumes.
The unit also delivered a 4% improvement to 76% in load factor on its planes and an 8.8% uplift to £55.29 in revenue per seat.
"We have made good progress in the first half of the year and with our fleet size under control, we are already delivering improvements to passenger yield and load factors," Ms Ourmieres-Widener said.
"Load factors are expected to continue to strengthen as the fleet reduces and we anticipate that yields will stabilise.
"While half-year profits are lower than last year, due to the one-off IT contract costs, higher maintenance expenses and the impact of the fall in the value of sterling, I am confident that we are on a clear path to sustainable profitability through the investments and improvements we are making at Flybe.
"In the second half, we will focus on improving our cost base and reliability performance while preparing the business for the future as we invest in the new digital platform."