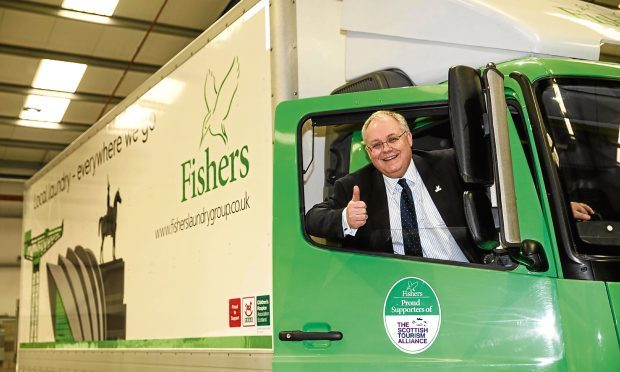 Historic Fife laundry group Fishers has been sold to Canadian giant K-Bro in a £35 million deal.
The Cupar-headquartered firm's 800 staff across its seven sites in Scotland and the north of England were informed of the change today.
The new owners insisted it was business as usual for the company and all jobs are safe.
The senior management team of managing director Michael Jones, commercial director Scott Inglis and finance director Lucy Renaut will also remain in their roles.
Toronto-Stock Exchange-listed K-Bro Linen Inc is the largest provider of laundry and linen services in Canada, with revenues of almost $160 million Canadian dollars in 2016 and earnings before income, taxation, depreciation and amortisation (EBITDA) of $28.2m.
The group has agreed to acquire Fishers' parent company, Fishers Topco Limited, from its major shareholder, the private equity firm, Caird Capital, and a number of individual minority shareholders for a £35m consideration in addition to an earn-out consideration based upon full year EBITDA.
The deal is being funded by Edmonton, Alberta-based K-Bro through a maximum $34.5 million equity offer.
The company – which employs more than 1,600 staff across nine processing facilities and two distribution centres in 10 Canadian cities – said the proceeds would be used to pay down debt incurred under its $100m senior secured revolving credit facility related to the Fishers acquisition.
The Scottish business will operate as a standalone, wholly owned subsidiary of K-Bro, once the deal is finalised early next week.
K-Bro said it planned to leverage its acquisition of Fishers as a platform from which to build its presence in the UK commercial laundry and textile rental market through a combination of organic growth and consolidation opportunities.
Linda McCurdy, president and chief executive officer of K-Bro, said the group's first acquisition outside of Canada was a very exciting moment.
She said:"The UK linen hospitality market is mature, but still highly fragmented, and we expect to leverage Fishers' leading market position, experienced local management team, entrenched customer relationships and proven track record of stable and profitable operations to take advantage of the significant organic growth and consolidation opportunities available to us, similar to what we have achieved in Canada."
Fishers was established in 1900 and is Scotland's largest commercial laundry.
"This is great news for Fishers as it brings a new owner for the business with the resources, experience and ambition to take Fishers to the next level," Fishers managing director Michael Jones said.
"I am confident that, as part of K-Bro, Fishers will thrive and I look forward to drawing on K-Bro's experience, particularly in the Canadian healthcare sector, to help us grow the Fishers business further here in the UK."