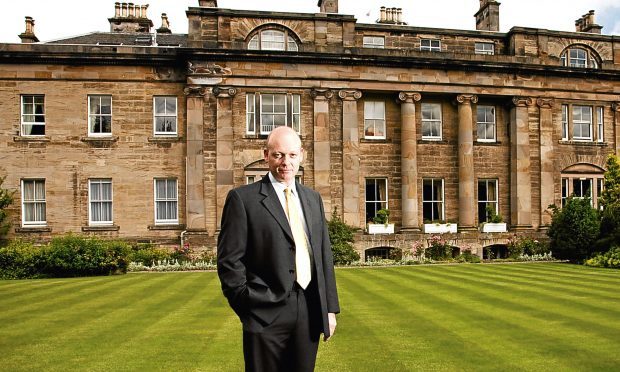 A Fife hotel has put a £4 million infrastructure project on hold as a direct result of the Brexit vote.
Balbirnie House Hotel in Markinch had planning permission in place for a major spa facility which would have incorporated a state of the art Swedish design.
However, director Nicholas Russell said that in the current climate of uncertainty in the Scottish hospitality sector following the EU referendum, he and the other directors believed now was not the time to make such a major investment.
He said: "We had planning permission in place and spent six months working on it last year, changing it from a conventional build to having most of it constructed offsite using modular construction. That way there would only have been disruption on site for a period of about three weeks.
"We had full support for the project from HSBC.
"As directors we saw what was happening with Brexit and thought that with such uncertainty ahead we'll sit back and see what happens and hope things stabilise very soon."
The facility would incorporate a gym, pool and spa and have been open to the community with around 500 memberships available.
It would have meant the hotel, which is set within Balbirnie Park, would have been capable of hosting triathlons.
"We will definitely look at doing this project when certainty has come back to the marketplace. It will be a truly wonderful addition for Fife," Mr Russell added.
Recently published accounts show that in the financial year to April 30, Balbirnie House Hotel Limited recorded a £3.2m turnover and record a pre-tax loss of £28,370.
Mr Russell said the loss was due to significant reinvestment in the hotel made during the financial year.
He said: "The investment we made last year was almost quadruple industry norms – we reinvested about 9% of revenue.
"It's great to be in that position today where Balbirnie is looking at the best in its history.
"A large part of our business is in relation to weddings and that side seems to keep on growing.
"In November we took 16 future wedding bookings which is a record for that month.
"It's fair to say that because of Brexit people are also wary of considering high level spending on weddings as well."
Mr Russell said he was also "sad" that the hotel may not be able to recruit as many EU workers for its 115-strong staff.
rmclaren@thecourier.co.uk