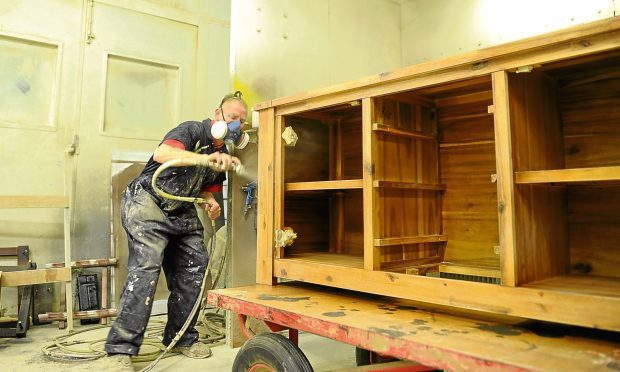 A Dundee manufacturer of furniture, doors and mattresses is eyeing better times ahead after a "disappointing" year in which it returned a six-figure deficit.
Newly published accounts show Dovetail Enterprises (1993) Limited – a charity providing training and employment opportunities for more than 30 blind, visually impaired and disabled workers at its base at Dunsinane Industrial Estate – produced a £328,465 deficit in the year to March 31.
The group's total income in the period was flat year-on-year at £3.21 million, with trading activites pitching in £2.72m and the remaining cash from local and central government grants, donations and the proceeds from investments.
In the trustees' report to the accounts, the group said the challenging trading conditions seen during the year had prevented it from maintaining unrestricted funds at a level equivalent to between three and six months expenditure – a situation that breaches its own policy.
However, it stated it was satsified that systems were in place to mitigate exposure to major risks to the business.
The reports states the group is implementing a five-year strategic plan with the aim of stabilising the company and returning it to profit and maximising supported employment and training opportunities while continuing to deliver quality products and services.
Within that framework, Dovetail said "significant effort" had been made to developing a robust three-year financial plan that will return increased sales and improved margins.
Chairman Ken Laing said Dovetail was part way along a journey to a more sustainable and profitable business.
He said the group had recently won two major contracts that would hopefully help it outstrip its 12% revenue uplift target in the current financial year.
He said the group was also delighted to have been chosen by Apex Hotels to provide furniture and fitttings for refurbishment works at its Dundee and Grassmarket hotels.
Mr Laing also said there was a strong pipeline of work already in place for financial 2018/19, and the focus was now on improving manufacturing practices and increasing contract margins.
He said: "Last year we really started to make the changes and this year we were in transition.
"Hopefully we will now start to see improvements in where we are."