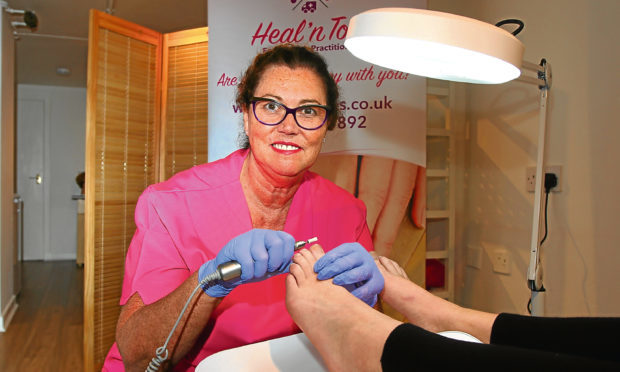 Elaine Woods launched Heal 'n Toes last year working as a mobile foot health practitioner, before opening her own clinic in Broughty Ferry.
Q. Why did you start in business? I wanted to improve my work/life balance after many years working as a nurse in the NHS. I knew from my experience that foot problems are extremely common but are often left untreated. My aim was to set up a business that assessed people's feet and offered treatments for issues that, carried out by a registered foot health practitioner like myself, would be able to prevent more serious problems in future. Foot problems can occur at all ages and regular treatment can make a big difference.
Q. How did you get where you are today? I completed a distance learning course with Stonebridge College in Birmingham to become a Foot Health Practitioner which I really enjoyed. When I launched Heal 'n Toes last July it began as a mobile business. In less than a year it has grown, mainly via social media, my website and leaflet drops, and allowed me to open a clinic in addition to continuing to offer a mobile service.
Q. Who has helped you?
After I completed my course I contacted Business Gateway Dundee. I saw an adverton their free seminars it delivered and I felt they could help me. I attended four workshops in a month as the information I was given was invaluable.
To be honest, I hadn't realised how much was involved but with the advice I received I was able to launch Heal 'n Toes successfully.
Business Gateway also identified possible funding opportunities for me and I was fortunate to obtain a small grant from Dundee City Council.
Q. Your biggest mistake? Due to lots of planning and research there have been no mistakes.
Q. Your greatest achievement?
I would say it has to be making the decision to leave nursing and concentrate on completing the diploma in order to set up the business.
Q. Hopes for the future? I want to continue to grow the business through good clinical outcomes and reputation.
Q. Do you want to recruit? It's definitely a possibility but it would need to be the right person with the right skills.
Q. What is the hardest thing about running a business? Definitely staying on top of the accountancy paperwork and ensuring the marketing is fresh.
Q. Any advice to wannabe entrepreneurs? Make sure you have enough funds to not only set up, but cover any unexpected costs.
Also make use of the free services Business Gateway offers, the workshops and expert advice are fantastic tools aimed at guiding yout through every step.