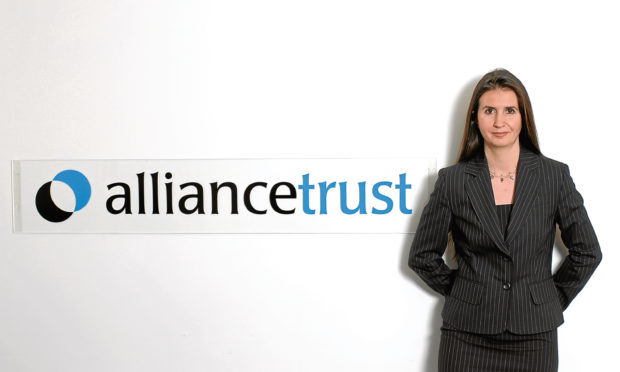 Former chief executive Katherine Garrett-Cox was paid more than £800,000 by Alliance Trust last year despite having left the Dundee finance house in early 2016.
The group's annual report shows Ms Garrett-Cox – once one of the higest profile women in UK financial services – received a total package worth £831,388 in the year to December 31.
Ms Garrett-Cox time as CEO came to an end on February 3, 2016, when the business moved to a new leadership structure without any executive directors.
She was made redundant and left the Trust the following month.
The document also shows Alan Trotter, who was chief financial officer during Katherine Garrett-Cox's tenure and who left the business in June 2016, also continued to benefit from accrued long term share awards during 2017.
Mrs Garrett-Cox's departure followed more than a year of intense pressure on the management team after the Trust's then largest single shareholder, Elliott Advisors, mounted a concerted campaign to drive boardroom change.
Among the private equity group's reasons for calling for a shake-up was what it saw as the long-term underperformance of the group's investment portfolio.
Mrs Garrett-Cox and then Trust chairman Karin Forseke decided to put up a fight but Elliott's activism eventually bore fruit and the group was forced to change.
Lord Smith of Kelvin was brought in as chairman in January 2016 and has overseen a major overhaul.
Executive positions on the board were axed in favour of a new structure in which the chairman is supported by a group of non-executive directors.
The new board was responsible for bringing forward a plan to outsource the funds management function of the Trust to Willis Towers Watson, a proposal that was ratified by shareholders last Spring and implemented.
In his review for the annual report, remuneration committee chairman Anthony Brooke set out both fees paid to the current board members and "historic" outlays.
Lord Smith's fee as chairman in 2017 was £120,000, up from £109,000 in his first year in the role.
Mrs Garret-Cox total remuneration in the year to Hogmanay 2016 was £1.3 million, and she was paid a further £831,388 last year.
The latter figure is made up of a £75,000 base salary, pension payments of £19,000, a taxable benefit of £1,000 and long term incentive awards valued at circa £737,000.
Mr Brooke's report notes the payments made to Mrs Garrett-Cox and Mr Trotter are in accordance with agreements approved by shareholders when they were in office.
He states: "In the Implementation Reports for 2015 and 2016 we detailed the payments to which both Katherine Garrett-Cox and Alan Trotter were entitled and here we report on the payments actually made to them during 2017.
"All these payments were within the terms of the Trust's Remuneration Policy which was approved by shareholders on 1 May 2014.
"No discretionary payments were made to either of the former directors in 2017 and all payments made were in accordance with those detailed in the 2015 and 2016 Remuneration Implementation Reports."