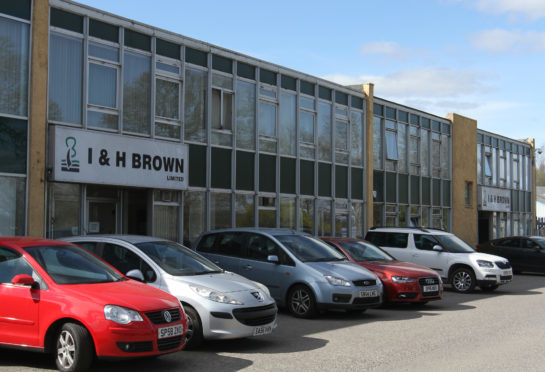 Perth-based developer and civil engineering group I&H Brown saw a 25% drop in sales last year as the number of on-shore wind energy schemes and civil engineering projects reduced.
The Dunkeld Road firm saw turnover fall from £72.5 million to £54.6m in the year to August 27.
Pre-tax profits for the group decreased from £6.5m to £2.3m.
Director James Brown said there had been a reduction in the number of civil engineering projects, the property development side of the company had made "good progress" in promoting and developing sites.
In the strategic report within the company's accounts, he said: "Projects in Fife, the Lothians, Dundee and Falkirk have progressed and we are pleased to see the housing market showing continued growth.
"Construction work has continued at our Dunfermline site where we have completed our first sale to a national house builder.
"We anticipate carrying out further infrastructure works and selling further land to house builders in the current year."
The company was founded in 1964 by Ian and Hardie Brown. It began as a plant hirer, evolved into sub-contracting and, from the mid-1970s, into a civil engineering main contractor.
Staff numbers increased from 205 to 217 during the financial year.
Mr Brown said he anticipated the marketplace in Scotland to remain challenging in the current financial year.
He added: "The directors are satisfied with the results of the period and are focused on ensuring the civil engineering division maintains profitability.
"The present market place is challenging with much public spend being channelled to very large projects, suitable for large contractors, particularly in Scotland.
"In conclusion, we expect our market place to continue to be challenging.
"Our volume of civil engineering work is expected to reduce again although we are making good progress in our development division where we anticipate an increasing number of projects coming to fruition."
rmclaren@thecourier.co.uk