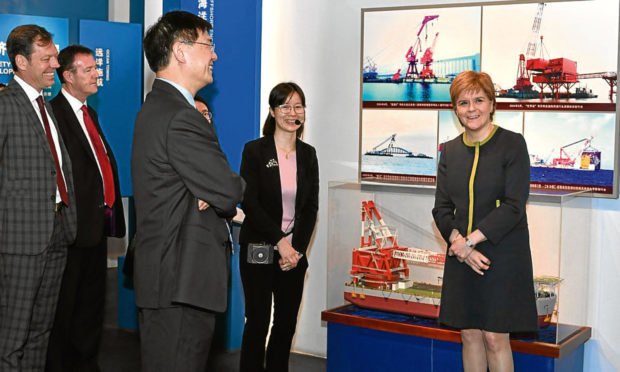 Bigger is generally considered as better in the world of business.
More orders, more staff, more productive production methods – the economic cycle of a business is, rightly, all about driving growth.
But sometimes in life it is the small things that matter the most.
I'm talking about those underlying indicators that things are going in the right direction.
One of those little nudges that Tayside is on the up came last week.
First Minister Nicola Sturgeon was in China on a trade mission with business leaders and members of the Scottish Chambers of Commerce network and had various meetings with local companies and organisations.
On her itinerary was a visit to the offices of China Ocean Engineering Shanghai (COES), a Chinese state-owned industrial group that has been circling its wagons for some time ahead of a move into the UK marketplace.
COES specialises in offshore construction and decom, renewables, towage and is also heavily involved in wreck removal and salvage.
Its marine operations are among the most capable in the world and, following the tragic SEWOL passenger ferry disaster off the South Korean peninsula in 2014 in which more than 300 people died, it was to CEOS that the South Korean government turned to raise the stricken vessel from the depths.
The First Minister met company president Hong Chong and it was later announced COES had decided to locate its fledgling UK operation in Dundee.
The move was greeted with the usual political fanfare. But in all practicality, what COES is signing up to is the establishment of a UK staging post.
Immediately, it could be as little as a couple of desks in a rented office space at Dundee waterfront.
That sounds like pretty small beer and is not something I'd ordinarly get excited about.
But a staging post is an early milestone on a journey and, if it should so wish, COES has the scale and financial firepower to grow a mighty oak from this acorn investment.
The potential is great, but what made me smile the most was that Dundee is on the radar of COES at all.
You can be certain it would not have been in the mix 20 years ago, and it perhaps would not have been on the radar even 10 or five years ago.
That is tangible progress and is thanks to the V&A project and wider rehabilation of Dundee's reputation.
In recent years, the small, positive indications about the economies of Tayside and Fife have started to mount up.
Long may that trend continue.