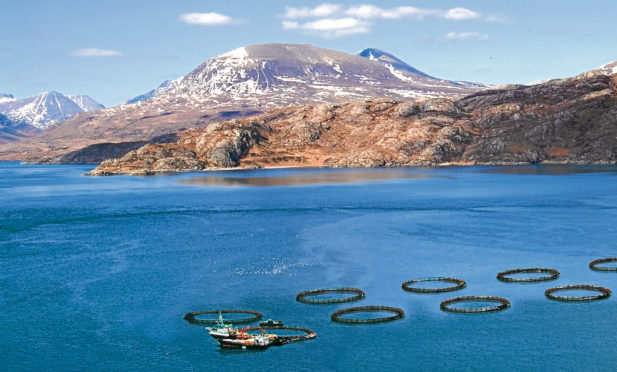 A Dundee-based supplier of fish farm systems is among the Scottish recipients of the Queen's Award for Enterprise.
Ace Aquatec was among 230 UK businesses to be recognised in the latest round of Queen's Awards, which were released to coincide with Her Majesty's 92nd birthday at the weekend.
Ace Aquatec provides a range of offshore equipment designed to help protect fish farm installations from marine predators.
The firm also supplies processing equipment for the sector and has a sound-emitting device designed to ensure marine mammals and offshore fishing vessels do not come into contact.
Managing director Nathan Pyne-Carter said winning a Queen's Award was a stamp of quality for the business.
The firm, which last year moved to City Quay in Dundee from Dingwall to be closer to its key university research partners and product sub-contractors including Dynamic EMS of Fife, will now use the prestige created by the award as it looks to build its business base in domestic and overseas markets.
Ace Aquatec turned over £1.4 million last year, is on track to achieve sales of £3m this year and is targeting a further doubling of revenues in the coming financial year.
"It is difficult being quite a small company and trying to play on the international stage where there are very big hitters," Mr Pyne-Carter said.
"But the Queen's Award is obviously very prestigious and can help quite a lot when you are selling yourself.
"We have applied previously for awards and found they can be very good for business.
"It is a stamp of quality.
Ace Aquatec was one of a handful of Scottish companies recognised in the awards.
They include the long-established Scottish leather goods supplier Bridge of Weir Leather Company, and the baby products firm Cheeky Chompers established by 'mumpreneurs' Amy Livingstone and Julie Wilson.
Glasgow construction contractor City Building LLP, Aberdeen subsea services firm Hydro Group and Forsyths Limited – a fabricator based in the north-east that has worked on projects as diverse as distillery renovations and offshore oil and gas – were also recognised.
The Queen's Award for Enterprise have been running for more than half a century and winners are permitted to use the scheme's emblem with their marketing materials for a period of five years following their award win..
In total, 230 businesses from industries as diverse as agriculture, software development and healthcare were recognised in the 2018 awards.
Nominations were received across four categories – international trade, innovation, sustainable development and promoting opportunity. Business Secretary Greg Clark said: "The UK has some of the most entrepreneurial and innovative minds in the world delivering jobs, growth and greater choice for consumers and I am proud to see a wealth of these businesses being recognised.
"Small businesses are the backbone of our economy – 99% of UK firms are small and over 1,000 new businesses start every day.
"Through our Industrial Strategy we are building a Britain in which they will continue to thrive."
ghuband@thecourier.co.uk