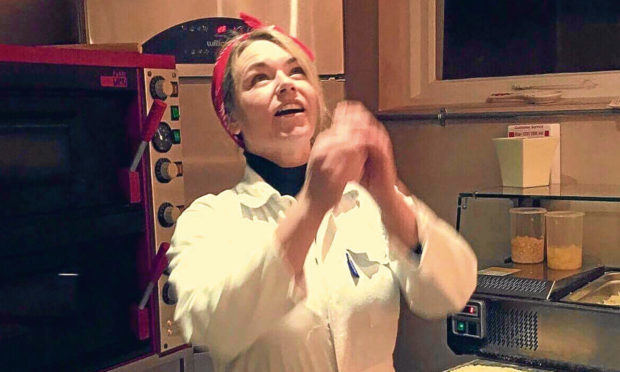 Sandy Wilkie set up Nonna's Gourmet Pizza Co in Montrose to offer customers across Angus a true taste of Italy.
Q. Why did you start in business?
I've always had a love of food and cooking and I wanted to be my own boss.
I took time away from work to bring up my daughter and then cared for my grandad.
After he passed away I decided to follow my dream and open my own pizza place.
Nonna's Gourmet Pizza, is named in honour of my gran who passed on her love of food to the younger generations of our family.
Q. How did you get to where you are today?
My gran was a big inspiration. She loved making family meals and she showed me how satisfying cooking can be.
My dad owned a fish and chip shop so I've been around the industry my whole life.
Our philosophy from the outset has been to create the best pizza experience possible.
We use meats from local craft butchers, own-recipe Italian sausage and the very best Italian flour and tomatoes to create traditional pizzas with a unique twist.
Pizza dough is made using a traditional Italian recipe that has won the world Pizza championships in Italy five times.
We try to keep pizzas rustic, with the idea of traditional with a twist so we also offer quirky toppings such as macaroni cheese, pulled pork, black beans and chilli con carne or sweet pizzas that include Nutella, crushed digestives and toasted marshmallow.
Q. Who has helped you along the way?
Business Gateway was really helpful.
My adviser guided me through the start-up process and helped to sort out my marketing strategy.
It took nine months for the unit to be fitted out properly so in that time I took advantage of the free workshops Business Gateway had to offer.
My dad has been a big help too.
Not just with his experience but he invested in the business with some of his inheritance money from my grandad.
Q. What was your biggest mistake?
I should have spent more on advertising our location. We are a bit out of the way.
This made it difficult for people to find us when we first opened and it's still something we're trying to highlight in our social media and advertising.
Q. What is your greatest achievement?
I think it would be the unique interiors and menu we're offering.
I really love the industrial look we've achieved with elements such as cheese grater lampshades and oil drums for tables.
Q. What do you hope to achieve in the future?
My long term goal is to have another Nonna's Pizza in the Tayside region, possibly in Arbroath or Dundee.
Q. Do you want to recruit in the future?
Definitely. Our plan is to employ at least one person before the end of the year.
Q. What is the hardest thing about running your own business?
Switching off.
I didn't realise just how hard it is to stop thinking or worrying about the business, especially in the early months.
Q. What advice would you give to other wannabe entrepreneurs?
Plan for every cost as much as you can.
There are always hidden costs but if you work out as much as possible in advance, they won't sting quite as much.
Also, access the support on offer from Business Gateway, who can help you with so many of the issues you'll be dealing with.