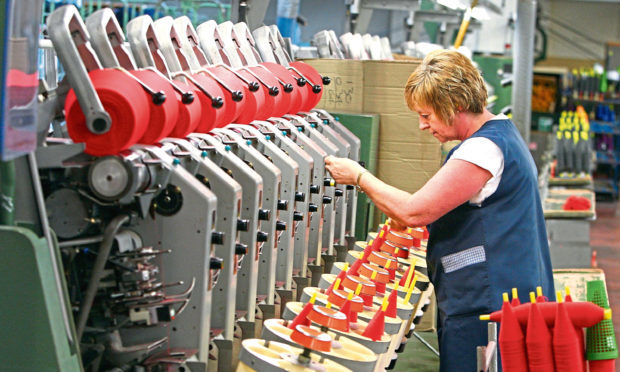 World renowned Kinross cashmere firm Todd & Duncan returned to profit last year after sales grew by 7.5%.
The company, which dyes and spins cashmere and lambswool yarns for some of the world's largest fashion brands, saw its sales increase from £23.1m to £24.8m for the year ending December 31.
After recording a pre-tax loss of £1.6m in 2016, the firm made a pre-tax profit of £1.1m last year.
Managing director Iain Cormack said he was delighted with the results.
He said: "We have spent a lot of time over the past two years looking at process improvements and we had a very good year in terms of delivery of service and quality.
"All that's come together to improve the margin we've been able to achieve."
Todd & Duncan has been producing yarns since 1867 and, with a workforce of 199, is the town's largest private sector employer.
Since 2009 the firm has been owned by Ningxia Cashmere Company Ltd, the largest fibre exporter in China, which ensures a high quality supply.
Mr Cormack said the firm had recently lost a major US customer but the impact had been mitigated with strong sales this year.
"It was a US retailer whose principal competitor has moved back to using Chinese yarn knitted in China," he said.
"Our customer took the strategic decision to go back to using yarn knitted in China to have a lower price cashmere offering in their stores.
"It was a concern but I'm pleased to say that in the first four months of this year we've been able to replace that volume with sales from other customers.
"It's been a very positive start to the year so far."
Mr Cormack also Brexit as another concern for the firm.
"Last year our sales to Europe were up," he said.
"Because Italy is such a big market for us, Brexit gives us concerns.
"We really need clarity to understand what Brexit is going to entail for the business."