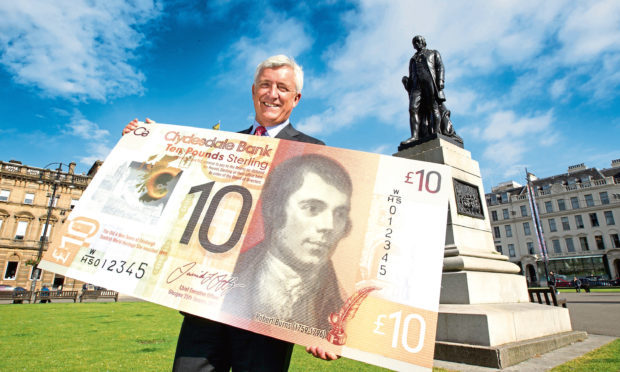 What's in a name?
Well here is one definition:
"Our name is a clue to our difference.
"It signals a sense of place and a pride in being a bank."
To be entrely accurate, that is CYBG's definition of a name.
CYBG is the Scottish headquarterd group which owns and operates Clydesdale Bank, its sister Yorkshire Bank and digital banking venture B.
With the stroke of a pen on a £1.7billion takeover deal this week, those names – with a combined trading history of more than 340 years – were all but consigned to history in favour of Virgin Money, the 23-year-old upstart which CYBG is acquiring.
For a multi-million pound licensing fee, the combined retail banking business – the one that ordinary savers deal with on a daily basis as they manage their accounts – will trade under the brand established by entrepreneur Sir Richard Branson.
Sir Richard will be handsomely renumerated as part of the deal.
But I suspect CYBG could have saved themselves some cash by just agreeing to issue its iconic bank notes – which have featured such luminaries as Rabbie Burns, Robert The Bruce and Charles Rennie Mackintosh – with Sir Richard's face on them.
The Clydesdale name will stay, for now at least, on the notes and there is potential for its use in the group's business banking operation.
But one of the the three real icons of Scottish banking along with Bank of Scotland and RBS is being, to all intents and purposes, retired.
That 'place and pride' link to Clydesdale's Scottish roots is diminishing.
As someone with a passion for social and industrial history, that is a regrettable turn of events.
But maybe I am just a dinosaur and change – whether it be a new name or the entire profile of a business – can be a force for good.
When CYBG de-merged fromAustralian owner NAB a couple of years ago it set out to become a major force in the UK banking market once more.
That seemed hubristic to me – I thought it would do well to tread water and consolidate its position.
But the Virgin Money acquisition proves CYBG is happy to flex its muscles in order to make its business better.
And when push comes to shove, that's what really matters.
Customers will always put a strong, flexible and outward-looking business ahead of a name.
Deliver on your promises and you can call yourself whatever you like.