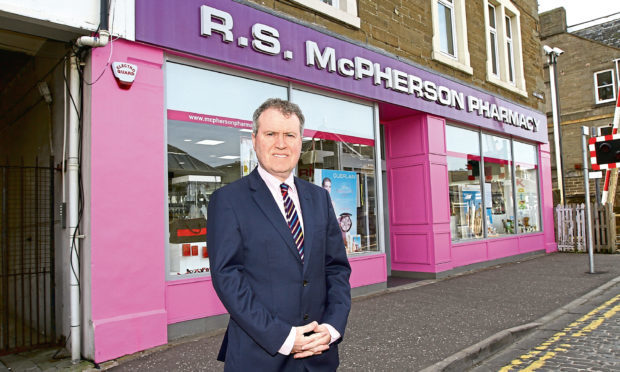 Blairgowrie-based Davidsons Chemists has made a multi-million-pound acquisition of a popular Broughty Ferry pharmacy.
The purchase of RS McPherson Pharmacy was completed earlier this month, and takes the number of shops owned by Davidsons to 37.
Davidsons managing director Allan Gordon said the deal, for an undisclosed sum, was the largest in the company's history.
He said: "Around 80% of our shops are based in Tayside so Broughty Ferry was an obvious location we were looking to expand into, as our nearest shop at Panmurefield is a couple of miles away.
"It's a substantial business that's been successfully run by Ken McPherson and his father before him.
"We started conversations with Ken and the time was right for him to sell and the time was right for us to buy.
"We came to an amicable arrangement that fitted well with him and us."
The large Gray Street shop will keep the McPherson name due to its strong local reputation.
Mr Gordon continued: "I am acutely aware that McPherson Pharmacy has a stronger brand name than we do in Broughty Ferry so if it ain't broke, don't fix it.
"We have now started integrating McPherson Pharmacy into the Davidsons Chemists way of doing things but at the same time retaining all the exceptionally good things that the McPherson pharmacy provided to people in Broughty Ferry. All the staff will be retained."
McPherson Pharmacy has a stronger brand name than we do in Broughty Ferry so if it ain't broke, don't fix it.
The acquisition means Davidsons are now projecting their turnover will top £40 million for the first time.
Over the past two decades, Davidsons has expanded rapidly from 10 to 37 outlets.
Mr Gordon said the target was to grow to 50 chemists, which may involve the purchase of a group.
He added: "We did have cash resources of around £10 million which we were looking to invest. A significant part of that parted company with us to acquire McPherson.
"We still have backing from our financial providers and have resources of between £10m to £15m that we can call on should the right acquisition emerge.
"We have examined the possibility of buying a group to expand more quickly. We have had some discussions but have been unable to get any of the deals we've been discussing over the line.
"Until then we will be slowly but surely expanding at a rate of around a pharmacy every year for the foreseeable future."
There has been a pharmacy present in Gray Street, Broughty Ferry, since the 19th Century.
It became RS McPherson in 1974 when Ronald and Wilma McPherson took over Harry B Robertson Chemist from previous owner Miss Ballantyne.
business@thecourier.co.uk