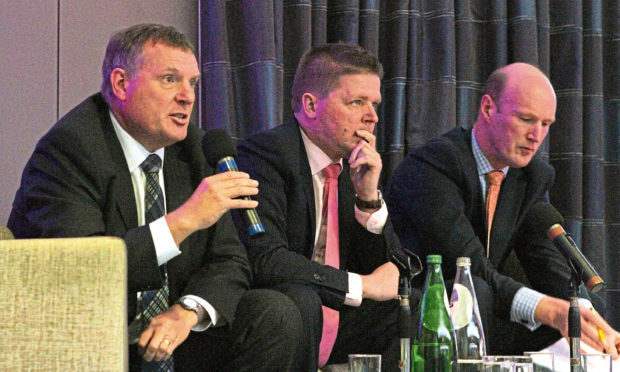 The X Factor is lucky if it lasts five minutes in my house.
As soon as I hear of a contestant's 'journey' – short for sob story – the remote is grabbed and the channel changed without delay.
It doesn't matter if they can sing like a bird or if they make a strangled cat sound like Pavarotti, off they pop.
But journey is exactly what comes to mind when thinking about today's seventh Dundee Economic Summit.
I have been to every one of these showcases and I suspect a large number of those who will make the short trip along to the Garydne Theatre this morning will have done so too.
To jump straight into the cliche – we have all been on a journey together.
When we first gathered in 2012 Dundee was a post-industrial city with a vision to improve itself through the waterfront and the V&A – or the V&Tay as it was catchily then dubbed.
The city was at the unglamorous stage of pulling things down, boring holes into the ground and carrying out essential infrastructure works.
It was a city that was down on its hunkers but had a plan to come good.
"This regeneration project is the second largest in Scotland and the 18th largest in the UK," city development director Mike Galloway told that inaugural audience.
And every year since Mr Galloway has returned to the podium to update on progress on the £1 billion-plus waterfront redevelopment.
It was, at times, a repetitive message pitched – quite plainly – to appeal to the converted in the room.
But what can not be denied is that while Mr Galloway and others talked the talk, the walk was being walked.
The waterfront has now been reshaped, the V&A has risen out of the ground, the train station has been redeveloped and investors and tourists are turning their face towards Dundee for the first time in at least a generation.
From that point of view the progress since 2012 has been remarkable.
But there are also elephants in the room – for example there has been great strides at Dundee Port in recent years but the wind manufacturing centre proposed by SSE at the first summit was shelved and a replacement decom hub plan remains just that – a plan.
But the greatest economic elephant is the £1 billion-plus Tay Cities Deal.
The deal – which will bring together targeted development funding from Holyrood and Westminster with new private investment cash – has long been talked about but remains unsigned and its significant potential unfulfilled.
We are told the heads of terms on Tay Cities is imminent.
That may not happen today but it cannot come quickly enough.
Delivering Regional Economic Growth is the theme of today's summit.
That ambition cannot be achieved without a successful City Deal.
That journey needs to start right now.