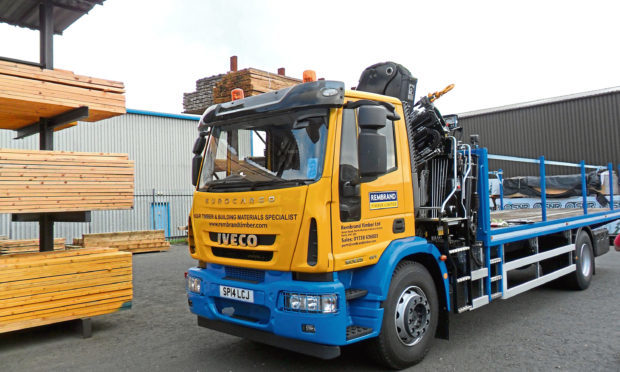 Angus headquartered timber merchant Rembrand has merged with a Central Belt rival in a multi-million pound deal that creates a major new player in the wood processing and distribution sector in Scotland and North East England.
Rembrand has come together with Grangemouth-based Thornbridge Sawmills in a move backed by private equity group Cairngorm Capital.
The value of the deal has not been disclosed but is understood to run into the multi-millions.
Cairngorm first became involved with Thornbridge late last year and followed up on its interest in the timber trade by investing in North Yorkshire Timber Limited in February.
The addition of Rembrand into the mix creates a business with a network of 35 branches and significant manufacturing capabilities.
Combined annual revenues are in excess of £100 million and the enlarged group will have over 600 staff.
Companies House filings show Rembrand Timber Limited achieved sales of £37.3m in the year to September 30, which generated a pre-tax profit of £2.8m, a significant uplift from 2016's £1.07m return.
The deal – which will see Rembrand's familiar brand retained – came about as managing director and founder George Low looked for a retirement exit strategy after 36 years with the business.
Mr Low will remain with the enlarged group on a short term basis to ensure a smooth transition.
"We have much in common in terms of our heritage, our commitment to outstanding product quality and our belief in the highest standards of customer service," Mr Low said of Thornbridge.
"This, together with our highly complementary product ranges and distribution networks, makes the merger a good fit and will allow Rembrand to continue to thrive to the benefit of our customers and employees.
"I know I will be leaving the business in very capable hands and look forward to seeing it prosper."
The newly enlarged business will be run on a day-to-day basis by former SIG plc chief executive Robert Barclay as group CEO, while Thornbridge managing director Bruce Muirhead is to become a non-executive director.
Mr Barclay said: "There is a clear fit between all the businesses and the combination creates many opportunities.
"The group is at a really exciting point in its development, with the ability to capitalise on numerous options for growth.
"Although we have ambitious goals to fulfil, with strong investor support, our exceptional products, first-rate employees and a well-deserved reputation for superior service, these are very achievable.
"I look forward to leading the next phase of development."
business@thecourier.co.uk