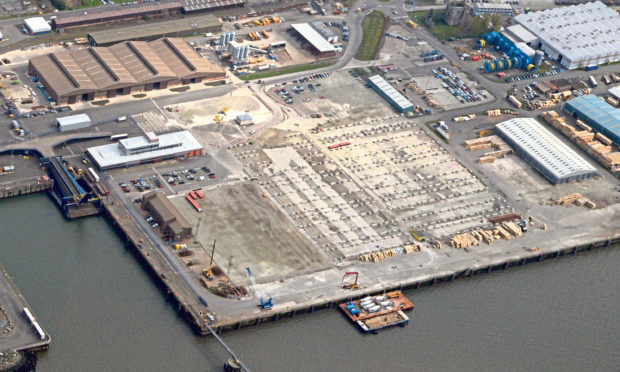 Scotland's largest agricultural trading company yesterday announced it had signed a long-term contract with the Port of Rosyth.
Agricultural specialist Cefetra Ltd said the Fife port's location and logistical links to the motorway network made it ideally situated to supply Scotland and Northern England, as well as being near to continental Europe.
Under the agreement the port's owner Forth Ports will provide Glasgow-based Cefetra with an "unparalleled, purpose built facility" which will become the main agri-hub in Scotland.
The Port of Rosyth will be deepened to provide a true deep-water port capable of taking vessels carrying up to 50,000 tonnes of cargo.
Existing storage facilities will be enhanced with the addition of a new, extensive, purpose built agricultural products terminal, increasing the storage capacity to around 100,000 tonnes.
Cefetra managing director Andrew Mackay said: "We are pleased to have been able to reach this agreement with Forth Ports and believe that the new Rosyth agri-hub will enable us to continue to serve our valued customers.
"We expect to increase the efficiency of our supply chains, taking advantage of scale and location, to bring additional benefits to our customers and to Scottish agriculture.
"Our expectation is to develop an annual throughput in excess of 500,000 tonnes of agricultural products, worth more than £100 million."
Cefetra Ltd is the largest agricultural trading company in Scotland with an annual turnover in excess of £800m.
It is active throughout the UK and Ireland, trading over four million tonnes annually.
Charles Hammond, chief executive officer of Forth Ports Limited, said: "It's great to have reached an agreement with Cefetra that will see us execute on another significant investment programme for a customer, reflecting our strategy of working with our customers to deliver supply chain solutions.
"The development at the Port of Rosyth reflects the port's unrivalled logistics links as well as its excellent marine capability.
"We very much look forward to working with Cefetra, a long-standing group customer to deliver this significant development, building on our overall activity within Scotland's agricultural sector".
Cefetra dispatches between 75,000 and 85,000 tonnes of raw materials to industry partners every week and delivers 500 and 550 lorry loads a day.