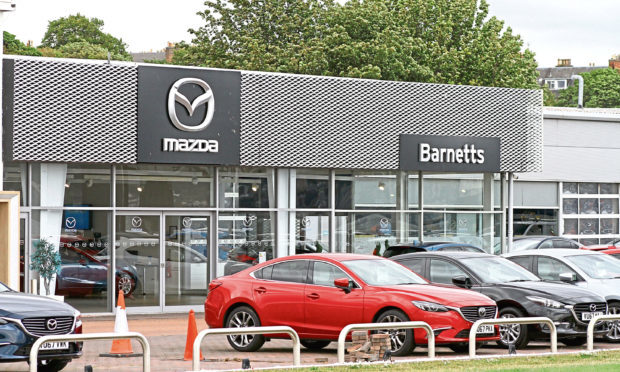 The keys to a landmark Dundee car dealership are set to be handed over as two major motor groups speed ahead with multi-million pound expansion plans for the city.
The Courier understands Edinburgh-based Eastern Western Motor Group is in advanced negotiations with the owner of Riverside-based Barnetts Motor Group (BMG) to potentially buy the group's multi-franchise riverfront site.
Those talks come at the same time as John Clark Motor Group (JCMG) announced it had acquired the Volvo Dundee dealership which has been held by BMG for years.
BMG employs more than 150 staff and produced a £1.3m profit in 2017 from sales of £65.3m.
It also operates a secondary Volkswagen dealership in St Andrews.
BMG – which is controlled by prominent local businessman and chairman Paul Barnett – would not comment when contacted yesterday and Eastern Western were also playing their cards close to their chest.
However, JCMG said it was delighted to have picked up the Volvo marque in Dundee and it has already started trading from a temporary showroom at Macadam Place at Dryburgh Industrial Estate.
The Volvo operation will eventually relocate into John Clark's longstanding BMW garage at Rutherford Road.
The group is developing a new showroom for the German marque, Mini and Motorrad in Kings Cross Road and a second site for Jaguar Land Rover is also being built in the same street as part of a £10m investment.
Chris Clark, group managing director at JCMG, said, "We are looking forward to opening a new home for Volvo Cars in Dundee and welcoming customers to the showroom, as well as some of the existing Volvo Dundee staff into the John Clark Motor Group.
"They are a brilliant team of people and we intend to invest in further training to ensure they are confident with the products and the systems to ensure a seamless transition of the business."
Paul Lanni will oversee the new Volvo dealership for JCMG.
It will take on any manufacturer service plans or warranties issued while the dealership was operated by Barnetts.
"Opening a new site is very challenging and I am pleased to say that we have managed to achieve this in an incredibly tight time scale," Mr Lanni said.
"I am fully confident that with the new team in place the dealership will quickly be fully operational and we look forward to welcoming customers to a launch event in the very near future."
business@thecourier.co.uk