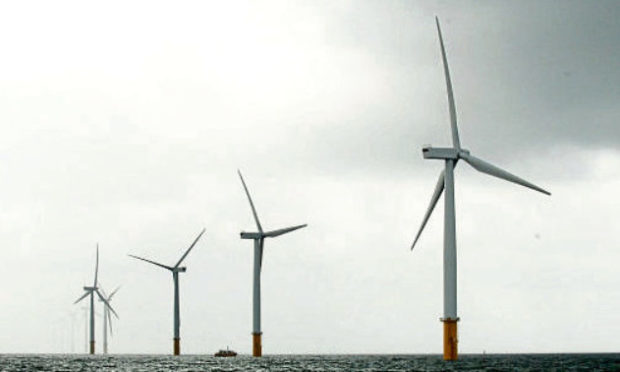 Technical surveys are to be carried out at the site of a proposed £1.2 billion wind farm off the Angus coast.
Over three months, survey ships will undertake geophysical and geotechnical inspections of the proposed site for the Inch Cape (ICOL) offshore wind farm.
The site lies around 15 kilometres off the Angus coast and stretches across an area of 150 square kilometres.
As many as four vessels will be used in the work, which will also include inspections of the proposed power export cable route which runs south into the Firth of Forth for landing at Cockenzie.
"The offshore site investigation is a key step forward for the ICOL project," Ian Johnson, ICOL project manager, said.
"It will help us further understand the local conditions and inform the design of the wind farm as it progresses."
The work will see the vessels operate around the clock to drill a series of boreholes across the development zone to allow for soil sampling.
The ships will use the ports of Dundee and Montrose as a base for their activities during the period.
Mr Johnson said the work was expected to have very little impact on the local fishing fleet, although he thanked skippers for their co-operation in advance.
"We expect the investigation to create minimal impact on the local fishing community, and are grateful for everyone's cooperation," he said.
"This time and investment now will put us in good stead to progress quickly with construction as soon as the necessary permissions are in place, and mitigate the risk of any potential delays during the next phase of the development."
The work will be completed by Horizon Geosciences, which carried out initial site investigations back in 2014.
Senior project manager John Cudden said: "We are pleased to bring our extensive experience of North Sea wind farm site investigations to the project and have confidence that works can be completed safely and to a high quality with minimal impact to the fishing community and other sea users."
Inch Cape is one of three major wind farms being progressed in the Outer Firths of Forth and Tay alongside Seagreen and Neart Na Gaoithe.
The developer of the latter scheme – the most advanced of the trio – this week submitted additional information to Scottish Ministers about its development.
The 450MW Neart development is planned for a site 15.5km off Fife Ness.
The devices to be used in the 54-turbine scheme will reach up to 208 metres at maximum rotor tip, meaning each unit will be taller than London landmarks, the BT Tower and Gherkin.