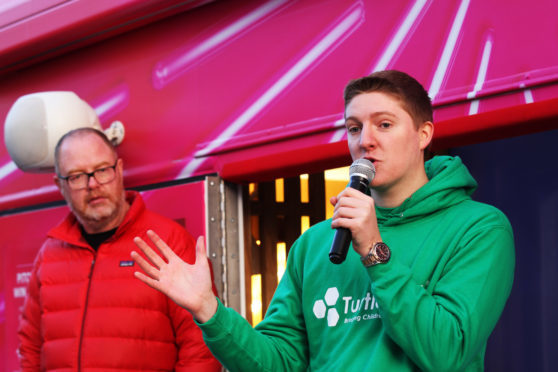 Sir Richard Branson has given his personal backing to a new swimming aid product being brought to market by a young Scottish entrepreneur.
Livingston-based swimming instructor Michael Harkins' Turtle Pack concept has been on an upwards trajectory since it won the Dundee leg of the Virgin Voom Tour pitching contest for emerging entrepreneurs late last year.
Michael's successful pitch won him a £5,000 cash prize to further develop his updated buoyancy aid, and put him on the radar of the Virgin founder.
Sir Richard this week praised the product and shared an image with his 12 million Twitter followers of his grandchildren wearing the Turtle Pack vests as they swam alongside him.
The Virgin entrepreneur's daughter Holly was also moved to promote the packs through her social media channels.
In a follow-up blog post, Sir Richard added: "I was particularly struck by Michael Harkins' Turtle Pack, which is a fun swimming aid designed for children aged three to six.
"Michael is a multi-award winning swim instructor who, in his words, wanted 'to make learning to swim turtally awesome'.
"Holly was with me at Voom, and I was quick to suggest the packs for my grandchildren too.
"Teaching people to swim is a real passion of mine, and it's an incredibly useful skill to learn.
"How wonderful if Turtle Pack can help make swimming easier and more enjoyable for kids."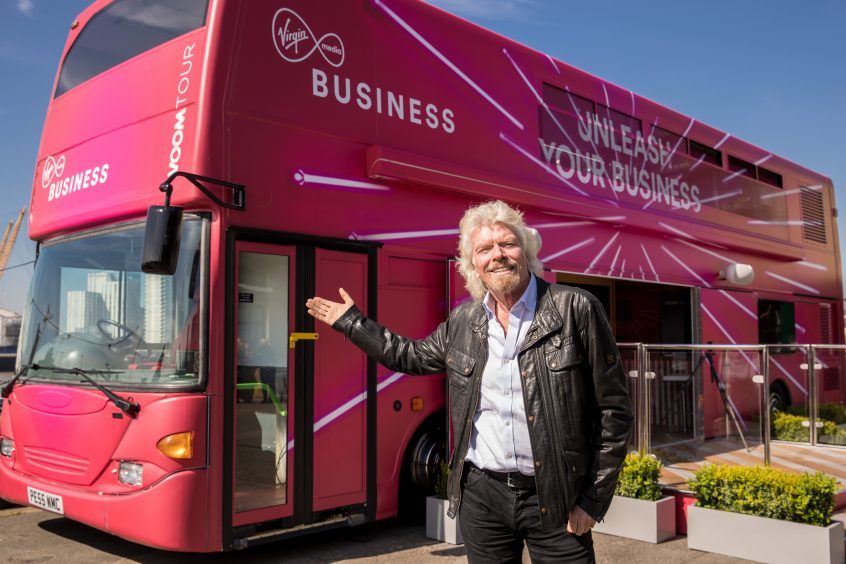 A kickstarter campaign to raise £10,000 towards bringing the swimming aid to market was launched on Wednesday evening, with more than a third of the funding target achieved within a day of launch.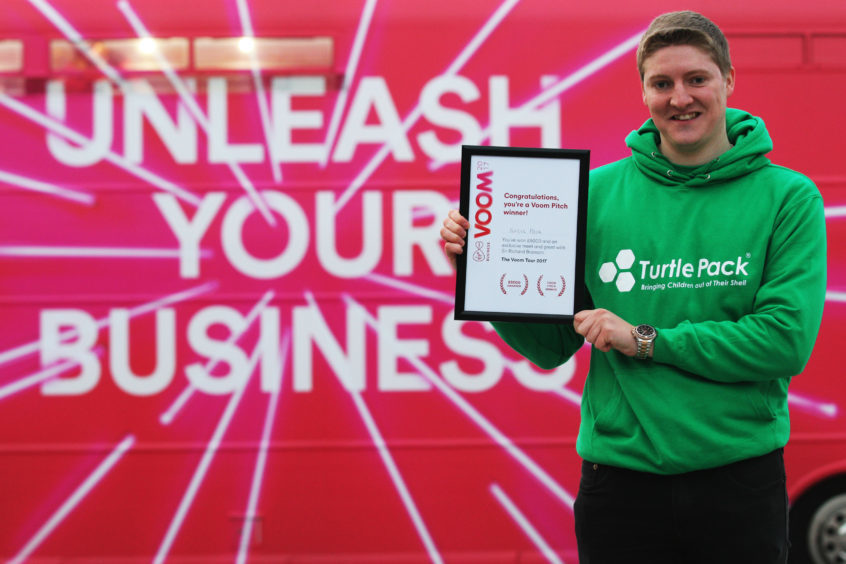 Michael – a graduate of the Acorn Enterprise business accelerator scheme in Rosyth and whose Turtle Pack pitch secured £100,000 of funding at the 2017 Scottish EDGE awards – said he was delighted at Sir Richard's intervention.
"It was a huge shock," Michael said.
"I met Sir Richard at the Voom finals and I also met Holly there.
"I kept in touch with Holly's agent and when I had the samples ready I sent them through.
"But I never thought they would take to social media to shout about how good Turtle Pack was.
"It was an amazing surprise."
The crowdfunding effort is being supported by Dundee video and animation marketing agency, Moovii Limited.
Founder James Williamson has been involved in creating promotional clips for the campaign.
He said: "We did a video plan for Michael, which involved doing a three-and-a-half-minute video and separate 10-second shorts for Facebook ads.
"We have been working really closely with him for four or five months now."