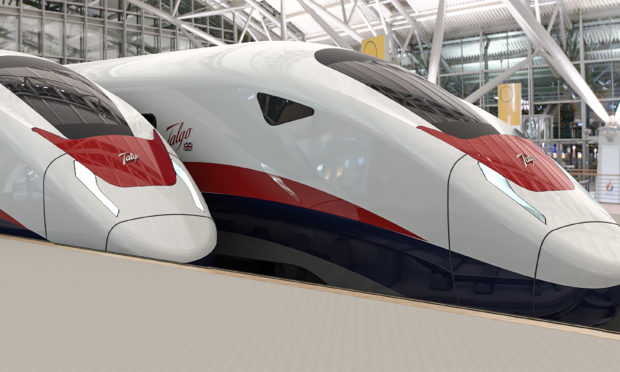 Up to 1,000 new jobs could be created in Fife after Longannet was selected as a potential site for a new train manufacturing plant, it has emerged.
Spanish firm Talgo has shortlisted the former power station as one of six potential locations for its proposed UK rolling stock manufacturing plant
The company has already confirmed sites near Chesterfield, St Helens and Leeds in England as well as Mostyn in North Wales, but it has now added Longannet and Hunterston as potential sites.
A final decision is expected next month.
Talgo has been shortlisted to build the 54 classic compatible trains for High Speed 2 (HS2) in a £2.75bn deal, while it is also interested in the East Midlands and West Coast Partnership deals.
The firm was also looking to bid for new trains for the CrossCountry franchise until that competition was stopped following the announcement of rail review in September.
If Longannet is chosen, the company says the potential factory site could employ up to 1,000 people – which would be a major boost to an area which suffered a huge setback when the power station closed – and would see people skilled-up to meet the needs of building trains that can run at up to 235mph.
Carlos de Palacio, president of Talgo, has personally gone on fact-finding missions to each of the sites and was impressed with what all six sites had to offer.
'The establishment of a manufacturing facility in the UK is a significant part of Talgo's future strategy," he said.
'Talgo's aim is to establish true manufacturing – rather than assembling from parts made elsewhere.
"This means that we will draw from materials and expertise across the UK.
'This keeps more money in the UK economy, and creates more skilled long-term jobs.
"Although there can only be one factory site, we have developed excellent relationships with areas that we have visited.
"We anticipate continuing these relationships to ensure that Talgo provides opportunity across the UK."