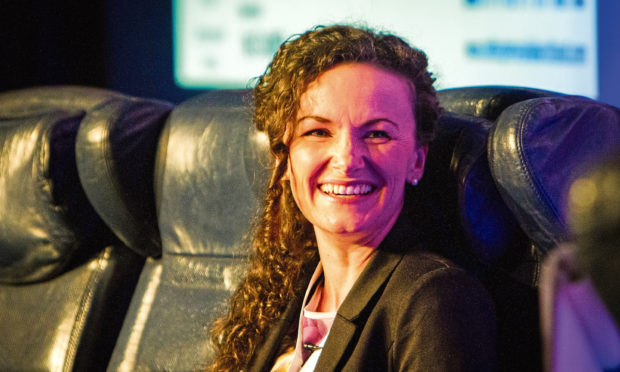 The Forfar-born co-founder of fantasy sports firm FanDuel has raised $2.2 million for her latest tech venture which aims to help make relationships "affair proof".
Four investors have backed Lesley Eccles' latest venture, Relish, which will be developed by an Edinburgh-based software team.
According to the company website, the mobile app is the first ever personal trainer for relationships.
Currently available through the Apple App Store, users enter details about themselves and their partner and then receive personalised advice.
The advice is based on the "cutting edge of relationship science" condensed into bite-sized chunks. Relish adds that it has developed the app with a panel of scientific advisors.
The website states: "On average, people are unhappy in their romantic relationship for six years before they do anything about it.
"You'll get a message each day (Mon – Fri) personalised to you with activities to keep your relationship healthy.
"You'll get access to a library of custom written content with deep insights scientifically proven to help you get the best out of your relationship."
The website adds: "It's never too early for anyone who's in any kind of a long-term relationship to start Relishing.
"This isn't therapy. This isn't for anyone who is in a really broken relationship (get out or get serious help now!)"
Lesley Eccles told The Courier in April that her next venture would operate in the health and wellbeing sector with engineers in Scotland building a product to be targeted at the US market.
In June she incorporated Relish Development at Companies House. The New York-based tech entrepreneur is listed as the only director.
Among the team building the app are Andy Heywood and Jen Mordue, who were previously the director of engineering and senior product manager for growth at FanDuel.
They both left FanDuel in the summer after it merged with Paddy Power Betfair.
Four of the five founders of FanDuel — including Mrs Eccles and her husband Nigel — are currently suing the company for $120m, claiming the Paddy Power Betfair deal undervalued the company.
FanDuel was valued at $465m in May's transaction, a sum which meant there was no return for ordinary shareholders.
rmclaren@thecourier.co.uk