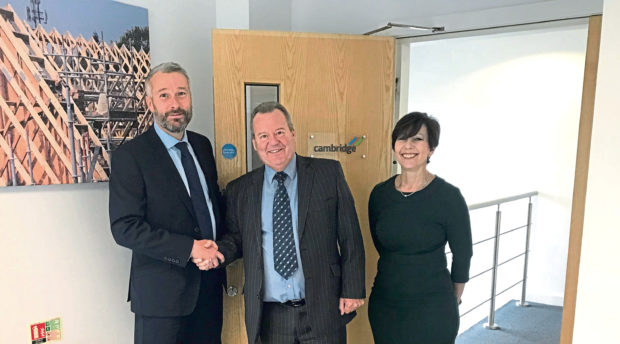 Fife-based Donaldson Timber Engineering has announced the acquisition of Cambridge Roof Truss Limited for an undisclosed sum.
Glenrothes-based Donaldson Timber Engineering (DTE) — which is the UK's largest manufacturer of roof trusses, engineered joists, beams and spandrel panels — said the acquisition was an excellent strategic fit with its existing product offering across the Southern and Midlands regions of the UK.
The purchase of the four-year-old company adds to DTE's eight manufacturing sites across the UK.
Jonathan Fellingham, managing director at DTE, said: "The acquisition further extends our reach in the UK, meaning wherever our customers are, we are on their doorstep providing the best in quality and local service with a national distribution network.
"It's a fantastic business and we're extremely pleased to be bringing the full team into the DTE family."
Cambridge Roof Truss Limited (CRTL) designs, manufactures and supplies timber framework for roods to leading housebuilders and construction companies in the UK.
CRTL managing director Jack McMinn said the move secured the future of the company.
He said: "I am very proud of the reputation we have built and for putting our customers and the service we provide to them at our core.
"By joining forces with DTE, we can offer a broader set of manufacturing capabilities with the resource and operational experience necessary to fully support our customers."
Sue Mills, sales and marketing director for CRTL, will take on the role of branch manager, leading a team of 29 staff.
An investment plan into the English business is already in place which outlines for potential for the branch to double its production output next year.
Ms Mills adds: "Our whole ethos of excellent customer service and quality matches well with DTE and we will be working hard to ensure we continue to provide the level of service our customers are accustomed to."
rmclaren@thecourier.co.uk