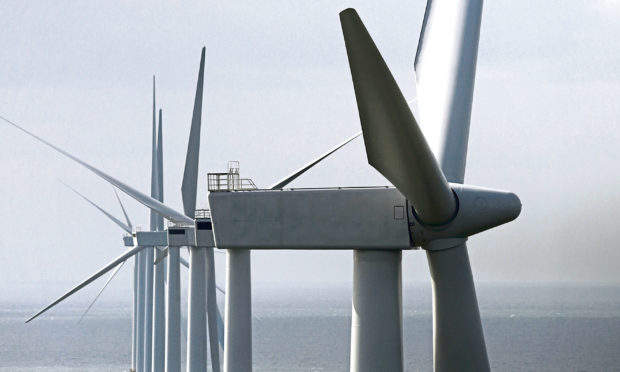 A £2 billion wind farm development off the Angus coast has taken a major step forward with the securing of several tier one supply agreements.
Inch Cape Offshore Limited (ICOL) said it had entered into agreement with three companies – GE Grid Solutions, NKT and Boskalis Subsea Cables and Flexibles – to deliver the export cable infrastructure needed to connect the Inch Cape array to the power grid.
The development – one of three new multi-billion-pound turbine arrays proposed for the Outer Firths of Tay and Forth – is to be built in a zone some 15 kilometres off the coast of Angus.
ICOL said it expected to announce preferred supplier agreements for the turbine and marine packages in the coming months, while it added it was continuing to engage with local port authorities as it looked to identify its new operations and maintenance base.
"Announcing our preferred suppliers is a momentous step forward for the project and we hope government and industry alike will take this as a sign of confidence that we are in a favourable position to progress following consent and CFD (Contract for Difference) eligibility," Ian Johnson, ICOL project manager, said.
"Our decision-making process was carefully informed by our demand for high-quality products and services, as well as the need to create jobs and boost the renewables service industry here in Scotland and the UK."
ICOL estimate the array will create up to 1,900 full-time equivalent jobs during the three-year construction period, providing a circa £241 million per annum boost to the economy.
The company is working with Scottish Enterprise to identify supply chain opportunities and further events for potential ICOL suppliers will be held in Aberdeen and Edinburgh on November 28 and 30 respectively.
"Our preferred suppliers will rely on local businesses to help them achieve and deliver elements of the construction packages," Mr Johnson said.
"These supply chain events will give smaller, tier two and three suppliers a chance to learn more about the project and opportunities to secure contracts, as well as how to navigate the complex procurement process.
"We look forward to engaging with these local industry experts and sharing more insights into how the Inch Cape wind farm will be developed."