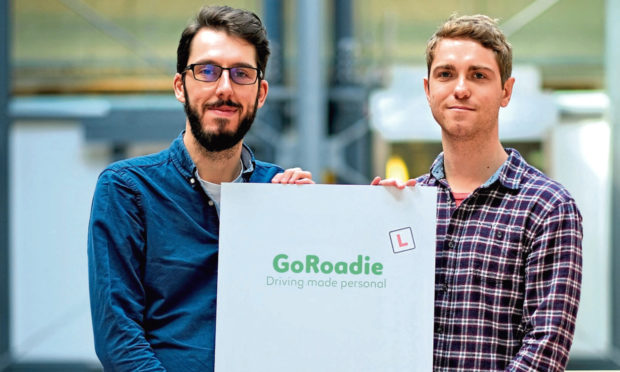 Developers Michael Carr and Barry White are driving ahead with their  driving instructor recommendation site GoRoadie. Here, Michael tells of their business journey so far.
Q. Why did you start in business?
A friend of ours was a driving instructor and he wanted more business. We have been building GoRoadie since April 2016 and spent countless nights designing, building and tweaking this product for driving instructors. We also wanted to do improve our skills outside of work – we got to use a lot of modern techniques that we couldn't use in our day to day which was really exciting.
Q. How did you get to where you are?
In January 2017, we matched our first student with an instructor and since then there have been over 700 requests. In September 2017, after gaining significant traction in Dundee, we decided to quit our day jobs – I worked as a software manager in Amazon's Edinburgh offices and Barry worked as a UX Lead at Hutchison Technologies – and see how far we can take this business.
Q. Who has helped you along the way?
We have received advice from friends and family and met several CEOs in the Scottish tech industry.
The most helpful, however, has been from joining the Elevator Programme in Dundee. Their contacts, advice and constant support have helped us significantly develop our business strategy.
Q. Your biggest mistake?
Initially when we built the product, we thought we could keep the service free until we managed to get investment – then we could start building ways to charge. It wasn't until we spoke to a CEO in Edinburgh and he challenged us to start generating revenue. Three weeks later we were making money.
Q. Your greatest achievement?
It has to be helping instructors who are working for national franchises become independent because they know we have can supply them business.
Several instructors have told us how they love what we are doing and how it makes such a difference to their day to day – that gives us the drive to constantly improve.
Q. How do you plan to grow?
We are now aiming to grow our business in other areas in Scotland by speaking to instructors in Fife and the Central Belt.
We recently had a stand a national conference in Kent and have signed up a bunch of instructors from the South, so we have our eyes on Plymouth, Nottingham and Ipswich. After that, people in Los Angeles and New York need driving lessons too!
Q. Do you want to recruit?
Yes! Currently, we are not recruiting due to funding limitations; however, we are now raising money to take on several employees in the next six to 12 months. One of our fundamental goals is to create jobs and build a brilliant product company in Dundee – this is my home and it has always been known for innovation, GoRoadie will be a part of that. We want to say "the Airbnb of driving instructors was built in Dundee."
Q. What is the hardest thing about running your own business?
Wearing all sort of different hats.
One day I'm a software engineer, the next day I need to be a marketing expert and after lunch, I need to devise a growth strategy.
Trying to juggle all these aspects in a two-person team is difficult but when you start seeing the results, it makes it all worth it.
Q. Advice to wannabe entrepreneurs?
Just do it!! Get out there and start building, it doesn't need to be perfect but improve your offering over time by speaking to customers. An idea without the effort is worthless – so go and put in the hard work.