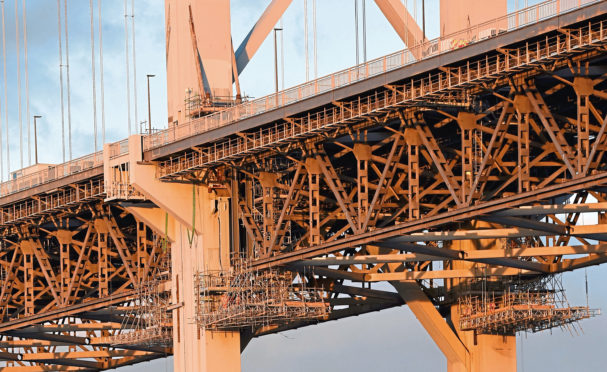 A Fife firm which provides boundary pushing access solutions for infrastructure projects is currently working on all three bridges across the Forth.
Span Access Solutions, which has offices in Methil and Kinross, constructs specialist suspended access systems which requires less equipment than traditional systems.
The firm installed seven suspended platforms and stair-towers to support the repair and replacement of the Truss End Links on the Forth Road Bridge.
It is also involved in supporting an ongoing maintenance programme on the Queensferry Crossing, with the installation of 14 gantries on runway beams located under the bridge.
More recently, it has designed and built a bespoke rolling gantry for under the south span of the rail bridge.
Company chairman Kenny Wiggins said: "Working on all three of these iconic bridges simultaneously shows our innovative capabilities with alternative access.
"Each of the bridges required a different solution, developed and installed exclusively to meet the needs of the client."
Span has worked on the Queensferry Crossing and the Forth Road Bridge for over a year. The work is expected to come to an end in the next two to three months.
Mr Wiggins said the firm, which has 25 staff, was pushing "technical boundaries" with its access systems, which can bring lower overall costs.
"By suspending platforms from four to six points you don't have to have multiple pieces of a kit that needs joined every metre," he explained.
"It means there is more engineering work but less equipment.
"Less equipment means less transportation and logistics costs, less handling and a shorter installation time.
"There's less chance of dropping equipment and it's safer.
"The kit costs may be more expensive but the long term overall costs are cheaper."
The firm is also targeting work from the oil and gas and offshore wind sectors.
business@thecourier.co.uk