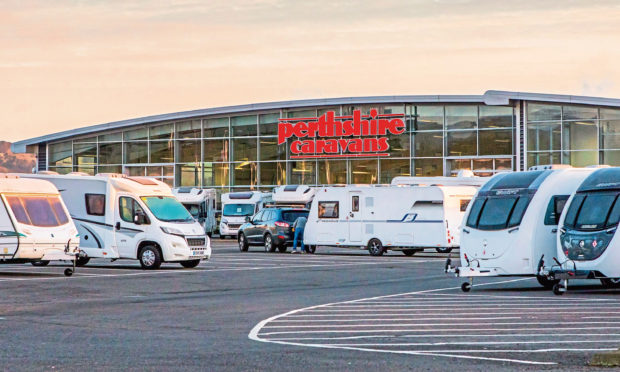 Perthshire Caravans said it made improvements across all areas of its business last year as it continued to invest in its Errol headquarters.
A new service centre doubled the workshop capacity of the business, which was established in 1936 by Peter and Chris McCormack, the parents of the present owners, Ian and Peter.
Perthshire Caravans Company is a partnership in which the touring caravan side of the business sits.
Meanwhile Perthshire Caravans Ltd covers sales of motorhomes and holiday homes as well as revenue from Red Lion Holiday Park in Arbroath and Loch Earn Leisure Park in Highland Perthshire.
The family's business interests are now run by the third generation of the McCormack family, siblings Ian Jnr and Claire.
Newly filed company accounts show that for the year ending March 31, Perthshire Caravans Limited's turnover fell by 1.7% to £17.9m, with pre-tax profit dipping from £1.4m to £1.2m.
In his strategic report within the limited company's annual accounts, director Ian McCormack Jnr said: "The company has had a successful year despite a slight decrease in turnover.
"The company has improved its performance across all areas of the business.
"Turnover has been achieved through the directors maintaining a tight control over the company's operations, working hard to achieve higher sales and improving website and advertising.
"The company has sufficient finance to continue to trade as normal and does not rely on borrowings from with the bank or any other finance source.
"Retention of profits within the company will help the company to respond to changes in the marketplace in which it operates and any rising costs."
The new service centre, which opened last summer, includes an MOT test station with ramps suitable for any size of vehicle, body shop preparation area and dedicated valet facilities.
In her directors' report, Claire McCormack added: "The company will continue to seek every opportunity to increase turnover and profitability.
"The company will look to improve and develop relationships with existing and new customers and as a result the directors are confident that the company can continue to expand its trading base throughout the foreseeable future."
Construction on a new leisure complex development at Loch Earn Leisure Park, which will include a restaurant, bar, fitness facilities and a children's play area, is under way and due to open later this year.
rmclaren@thecourier.co.uk