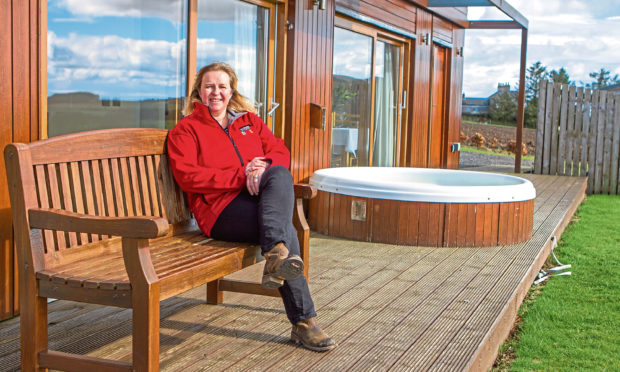 Rural entrepreneur Caroline Millar fears Scotland's outlying communities could be forgotten in the heat of the Brexit debate.
The businesswoman has several strings to her bow with her management consultancy, Go Rural, luxury holiday lodges business The Hideaway Experience and the day-to-day running of the family farm in the foothills of the Sidlaws at Auchterhouse to attend to.
Her championing of the rural economy has also seen her serve as a board member of Scotland's rural college SRUC and the Scottish Food Tourism Board.
She is also a past chair of the Oxford Farming Conference, one of the premier agricultaural industry events in the whole of the UK.
Speaking ahead of her appearance as a panellist at The Courier's latest Business Briefing on Brexit next week, Caroline said there was a danger the rural voice could be lost in the current deliberations.
She said it was vital that the needs of those living and working within the rural economy were taken into account as the Brexit conundrum was resolved.
"Obviously I have a few different interests which are all related to the rural economy," Caroline said.
"We have a tourism business here, we are farming and I am also a rural business consultant and I am in contact with a lot of other rural businesses ever day. From the tourism point of view I am slightly concerned about what the financial impact of Brexit will be on the money people have in their pockets.
"We are not seeing a decrease in demand but obviously if there was a massive (economic) shock or recession that would have an impact."
Caroline said many agricultural businesses and rural leisure and hospitality firms were also concerned about potential recruitment difficulties if access to migrant labour was cut in the wake of Brexit.
"My main ask of the politicians is that they don't forget rural Scotland and the rural economy, Caroline said.
"The rural economy can be a fragile economy and we need infrastructure and support to keep people in these communites and keep them alive and well."
Caroline will appear on The Courier's Business Briefings Brexit panel alongside Andrew Stirling of Stirfresh Limited, Bank of Scotland area director and Dundee and Angus Chamber of Commerce president Ian Collins and keynote speaker Professor Sir John Curtice, the UK's foremost political forecaster.
The Briefing will take place at Dundee's Apex City Quay Hotel on Thursday, February 7.
Tickets for the event are available via via the website www.thecourierbriefings.co.uk or by contacting Sharon Methven at smethven@dctmedia.co.uk