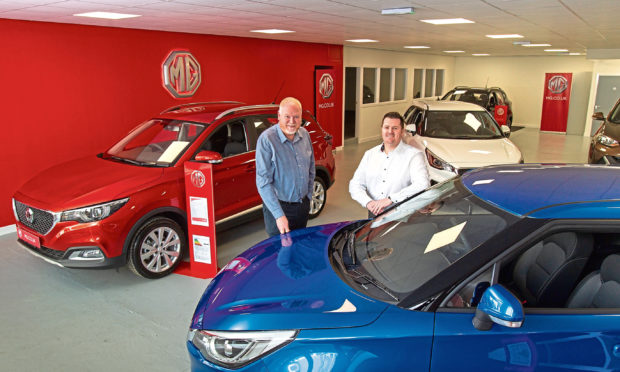 Angus car dealership Mackie Motors opened a third location yesterday with the launch of a MG franchise.
The firm has more than 70 staff at its sites in Arbroath and Brechin, which covers the Renault, Nissan and DACIA brands.
Managing director Kevin Mackie said he hoped the additional premises would lead to his firm growing its sales by 20% this year despite declining demand nationwide for new vehicles.
"The UK new-car market shrunk by 6.8% in 2018 but in contrast Mackie Motors saw new-vehicle sales grow by 7.5%," he said.
"We are forecasting a 20% growth in combined new and used vehicle sales in 2019. An encouraging January performance has kept us on track."
The new MG showroom is situated on Clark Street, opposite the group's other premises in Brechin. The new venture will create an additional four jobs.
Mr Mackie added: "This provides us with a fantastic opportunity for us to expand our new-car market share in the region, particularly as, at launch, we will be the only registered MG dealer between Falkirk and Shetland.
"The MG brand has a great history and we were really impressed with the design, build quality and level of spec on the three models in the current range.
"We know that the affordable price point will make these cars attractive to buyers."
Mr Mackie said he was continually looking for further growth opportunities for the 42-year-old firm.
"The motor industry is evolving extremely quickly. New technology is changing the whole driving experience," he added.
"Electric vehicles are the future of motoring and we expect their share of the market to grow quickly in the next five to eight years, as the technology is developing fast.
"As a group, we are in a great position and we will continue to look for ways to stay ahead of the curve."
business@thecourier.co.uk