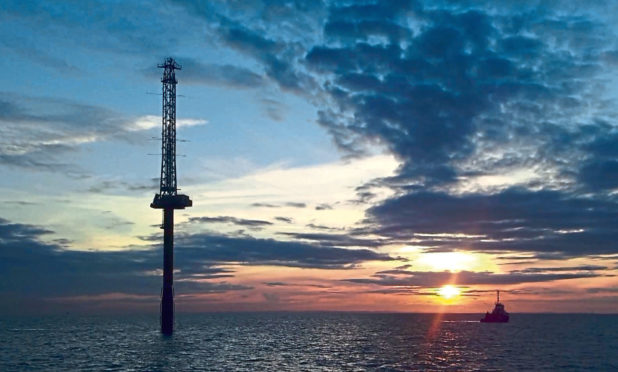 The firm behind a giant offshore wind project off the coast of Angus has outlined the impact the scheme could have for firms in Tayside and Fife.
Inch Cape Offshore Limited plans to install some of the world's largest wind turbines on a site 15km from Arbroath.
The company conservatively predicts the construction phase of the project — which could cost almost £2 billion — will create 450 jobs, with a lot of opportunities for local firms.
Another 80 long term jobs will be required for operation and maintenance once the 72 turbines are erected.
Project manager Ian Johnson said the opportunities for local firms would be "significant".
He said: "Working on quite a low assumption base, we think the construction phase will add around £280 million gross value added to the Scottish economy.
"We are working hard on our supply chain arrangements.
"We appointed our tier 1 contractors last year and held two supply chain events before Christmas.
"We will hold at least two more of these events this year and I would encourage any local companies to take part as the opportunities for local firm are significant."
The firm initially had consent for 110 turbines with a maximum height of 210 metres over the 150 square kilometre development site.
An updated plan for fewer turbines of a larger height has recently been submitted. The firm now hopes to build 72 turbines with a maximum blade tip height of 291 metres and a rotor diameter of 250 metres.
The scheme will export its electricity through cables that will connect to Cockenzie power station in East Lothian.
"Larger turbines allows us to future proof the project but there is an overall environmental benefit because the fewer turbines will have less environmental impact," Mr Johnson added.
"We have done a lot more design over the last year for the project.
"We have an agreed connection in East Lothian for 700 megawatts and that caps where we'll be in terms of capacity."
The viability of the project depends on Inch Cape Offshore Limited winning the Government's contracts for difference (CfD) energy auction in May, which sets a price for the electricity generated.
Mr Johnson added: "If we are successful — which we expect to be because we think we've got a great project — we will move into the final design and construction phases.
"If we win the CfD this year we will close the financials and contracts on the project in the third quarter of next year.
"We will immediately start work onshore after that, towards the end of 2020, with the onshore grid connection.
"We will start offshore in 2021 and the project will be finished in 2023."
rmclaren@thecourier.co.uk