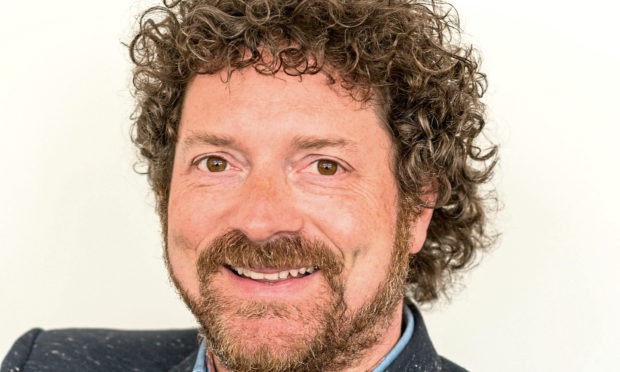 Courier Country is well placed to take advantage of the current business environment and the explosion of opportunities through technology and an ever-more inter-connected world.
That is the view of Scotland's foremost digital entrepreneur, Chris van der Kuyl, but he is also warning about the dangers of a lack of commitment.
The tech entrepreneur, whose current posts include chairman of 4J Studios, is to speak at the inaugural Courier Business Conference, held in association with chartered accountants MHA Henderson Loggie.
The event at Space, the performance venue at Dundee & Angus College's Kingsway campus on June 18 will bring together influential business and economic leaders to help inspire Courier Country firms to even greater success.
He said: "The environment in which we operate our businesses has changed beyond most people's recognition and it will continue to change at an even more rapid pace from here.
"The global connectivity of businesses is greater than ever, and any business or market that thinks it can operate in isolation has no real chance of success.
"What does that mean for the UK, for Scotland, for Courier Country and, most especially, for anyone wishing to start or scale up a business?
"I believe our part of the world is well placed to take advantage of the current business environment and the explosion of opportunities through technology and a more inter-connected world."
Mr van der Kuyl said this will take investment, confidence and talent, but he feels that, unfortunately, the current environment shows a lack of commitment in all three areas and it is something that cannot be ignored.
"Investing in infrastructure beyond projects like the V&A Dundee, investing in talent to grow the base of true work-ready citizens in our community and, ultimately, having the confidence to start and scale ventures with true global ambition are the three ingredients that will lead us to build a truly affluent and inclusive society for generations to come," he said.
"Amongst the current political, environmental and technologically-driven turmoil that the world finds itself in, there is an opportunity for people and places to redefine themselves in a global context culturally, socially and economically.
"The end of 'The Teens' is a great place to stand and look back at the first two decades of the new millennium and be prepared for the 'Roaring Twenties' ahead."
He said information is the largest and most valuable natural resource available to all citizens of the world and the business and societal battles being fought around it are ever more complex and compelling.
He added: "Content, whether it be for art, news or just pure consumption, will continue to be king and we, as an area renowned for creation of design, entertainment and ideas, are placed perfectly to thrive.
"The closing of this decade is a crossroads and it's time for Courier Country, Scotland and the wider UK to decide which path to take.
"Within my own interests, our companies and various ventures will be taking the road that leads to growth, excitement and huge opportunity.
"As long as the vision, ambition and confidence is shared with all, then the next few decades should be a great place to be."
Tickets are available from thecourierbusinessconference.com