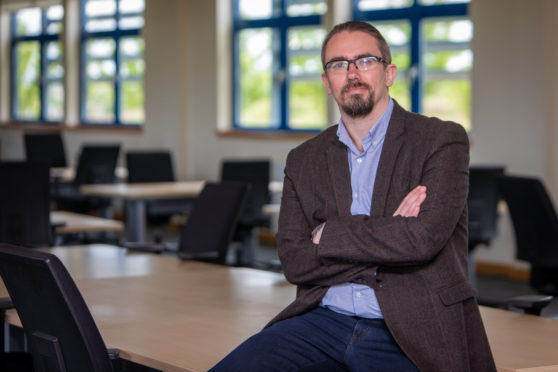 The businessman behind a new customer contact centre in Fife has outlined his plans to create more than 200 jobs over the next two years.
VeriCall is currently recruiting for 39 staff as it prepares to open in Kirkcaldy at the start of next month.
Managing director Adam Taylor, who lives in Buckhaven, has plans to add a further 50 employees by the end of the year.
All the roles at VeriCall will be full-time and permanent and meet the Scottish Living Wage of £9.00 per hour.
Mr Taylor set up the business in London 18 months ago to provider customer support for the pay-TV industry.
The firm has since won several contracts with directory enquiry companies, which led to the need for a second premises.
Backed with a £1 million regional selective assistance grant from Scottish Enterprise, the firm has selected Lomond House, formerly occupied by Havelock Europa, for its premises as it looks to rapidly increase its staff numbers.
"Our project plan is to create 209 jobs in Fife in the next two years," said Mr Taylor.
---
>> Keep up to date with the latest news with The Courier newsletter
---
"We have won a major contract with a household name and we plan to leverage this contract to win more work."
Mr Taylor said many people now didn't want to speak to companies over the phone and preferred to carry out interactions online.
He said VeriCall had developed technology that makes it easier for customers to complete requests through social media.
"At the moment a lot of social media channels are run by marketing teams and if you want to do anything account specific then it needs to be done over the phone or through an app," he explained.
"Our technology allows people to communicate directly through social media like Facebook Messenger and we are able to do everything within the same platform, including take secure payments.
"We've got a big advantage in that we are not trying to shoehorn new technologies into our structure – we've been able to build our infrastructure to be fit for purpose for the modern age."
He said the total investment in the move to Fife would be around £2million.
Mr Taylor said he was proud to bring significant numbers of jobs to the Kingdom.
"I've lived in Fife for 16 years and I've seen jobs leak out of the economy in that time," he added.
"I want to try to help create a stable employment for the future that's going to give opportunities for people in Fife to really build careers."
Scottish Enterprise worked in partnership with Fife Council to attract VeriCall to the Kingdom, fending off competition from other UK locations.
Interim chief officer, business and employability at Fife Council, Gordon Mole, added: "It's great news for mid Fife to have VeriCall establish its headquarters and senior management team in Kirkcaldy.
"Close and effective partnership working with Invest In Fife, the Council's Economic Development property team and Opportunities Fife has allowed VeriCall to meet the very demanding client time deadlines."