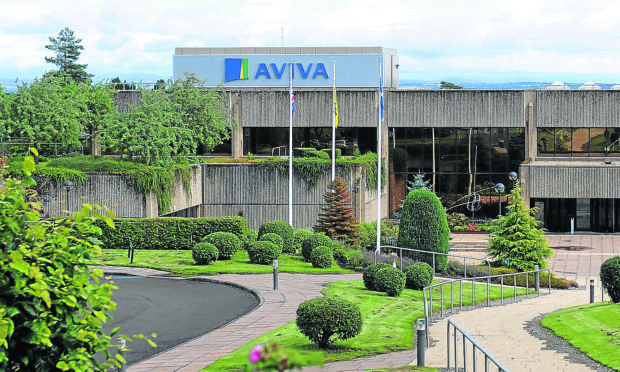 Insurance giant Aviva dropped a bombshell on its substantial Perth workforce today by announcing plans to axe 1,800 jobs over the next three years.
Aviva is one of the largest private sector employers in Perth, with around 1,100 staff at its sprawling Pitheavlis site.
The overhaul is aimed at saving £300 million a year and the jobs will be lost across Aviva's global operations. The firm employs 30,000 worldwide.
A company spokesperson said it was too early to say how many jobs at Perth would be axed.
"What we've announced today is that there will be around 1,800 role reductions but that is a global number," she said.
"We are now looking at the detail of that and how each of our businesses across the globe will be affected.
"It's really too early to say where those roles will come from. It's too early to say on the impact on Perth at this point."
Aviva's other major UK offices are located in Norwich, Bristol, Sheffield, York and Bishopbriggs outside Glasgow.
The spokesperson said Aviva would look to minimise the number of redundancies.
"We will look to reduce the roles through things like natural turnover, not filling vacancies and people who might want to leave voluntarily," she added.
"We will do everything we can to minimise redundancies.
"We are also committed to keeping staff informed as much as we can."
Aviva's Perth site is one of the firm's claims centres. It also carries out underwriting and houses teams which handle Aviva's bank and building society partnerships.
Andy Case, Unite's Aviva officer, said the workforce had been "shocked" at the news.
He said: "The scale of this role reduction will be met with disbelief across the company.
"Unite have arranged urgent discussions with Aviva management in order to ascertain the rationale for cutting an already extremely stretched workforce.
"Unite has made it clear to management that the union will strongly challenge any attempt to make compulsory redundancies."
Aviva said savings will also be made across central costs, contractor and consultant spend, reduction in project spend and in other areas.
Aviva also announced plans to split its UK life and general insurance businesses to "enable stronger accountability and greater management focus".
Perthshire South and Kinross-shire SNP MSP Roseanna Cunningham noted Aviva's long history in Perth.
She said: "Aviva is not just a major employer in Perth, it is the inheritor of a tradition of major insurance industry activity in the city, tracing its corporate lineage back to General Accident, founded in Perth in 1885, so the fortunes of the company are followed closely by all interested in the economic well-being of this area.
"It is not yet clear how those reductions will impact Perth and I have been told by Aviva that they will be working throughout the summer on what they call 'the next level of detail', and that they we will let me know as soon as any further decisions have been made."
Ms Cunningham called on Aviva to rule out compulsory redundancies.
She added: "The workforce at Pitheavlis will, understandably, be very concerned about this news and Aviva owe it to them to ensure that the detail of their intentions is made known as quickly as possible."
Perthshire North MSP John Swinney added: "Clearly, the news of potential job losses is worrying both for Aviva employees and for the wider Perth area.
"I note that, at present, no concrete plans have been brought forward by Aviva. Accordingly, I will be looking to meet with senior Aviva stakeholders as soon as possible to seek assurances over the future of their Perth operation and to better understand their rationale."
Mid Scotland and Fife Conservative MSP Murdo Fraser said: "This is a very concerning time for staff in Perth as we don't yet know just how many jobs will be lost at the base there. I will be asking Aviva for clarification of these issues as soon as possible."
It comes as part of a revamp of the group by new chief executive Maurice Tulloch, who took on the top job in March.
Announcing the job cuts, Mr Tulloch said: "Reducing Aviva's costs is essential to remain competitive and this means tough decisions and job losses which I do not take lightly.
"We will do all we can to minimise redundancies and support our people through this."
He added: "I am also determined to crack Aviva's complexity, an issue which has held back our performance for too long."
Last month energy firm SSE, which also has a substantial Perth operation, announced plans to shed 400 staff.