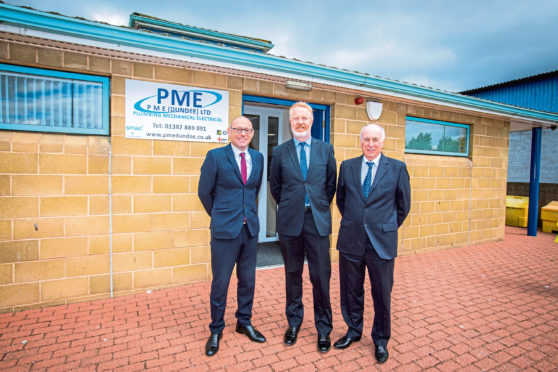 The dramatic expansion of a Dundee based plumbing, mechanical and electrical firm has brought with it a vastly increased workforce and a move to new premises.
PME (Dundee) Ltd was established in 2017 after the firm's owners spotted an opportunity following the collapse of Dundee firm Scottish Electrical Group.
Two years later, PME has moved to premises in Faraday Court that are three times the size of their previous base in Baird Avenue.
The firm, which started off with just two employees, has now grown to 20 staff, and last month sent out estimates for £3 million worth of work.
One of the founders, Dave Page who came out of retirement to get the company up and running, said they had a "tongue in cheek" first year turnover target of £1m, which they ultimately smashed.
This year they are set to achieve asales of around £4m.
He said: "We have exceeded our projections and looking to the future, we are hoping to double the workforce in the next 18 months.
"The move to the new, larger premises, which we have invested around £20,000 refurbishing, will help us achieve our goals.
"When we started the firm, we were individually well-known in the industry and this has certainly helped get the firm established.
"On top of that, being able to attract top quality staff has been hugely important too."
Mr Page added that the firm had picked up more work when rival firm McGill went into administration in February.
He said PME had also hired a number of former McGill employees.
He added: "We have a motto of always delivering more than the customer expects and that includes being personally available to them and having a local workforce that is flexible in terms of our ability to adapt to what our clients require."
The firm currently has six apprentices, an increase of four from 2018.
"We are really pleased with the apprentices, though we are firm but fair with them.
"For example we expect them to maintain their self-discipline.
"They are not just representing the firm, they are also the future of the firm."
Mr Page also paid tribute to the assistance provided by Dundee City Council, who he said had been "very helpful".
PME works across the spectrum including industrial, commercial and domestic sectors, and has also moved into renewables including the installation of biomass and heat pump equipment.
jimillar@thecourier.co.uk